Where is the coldest place on earth where human lives? Oymyakon, Russia takes the ice cube for coldest inhabited location on earth.

Somehow the people that call this small, rural town home are able to survive throughout some truly brutal winters.
The subarctic climate found in this region is extreme, as of right now in November temperatures hoover around -38F.
Journalist and photographer Amos Chapple braved the cold long enough to take these stunning pictures of Omyakon after the winter freeze set in, letting us all catch a glimpse of life in one of the coldest places on earth.
This woman walks across a frozen bridge in Yakutsk. Omyakon is located two days of driving outside the regional capital, Yakutsk.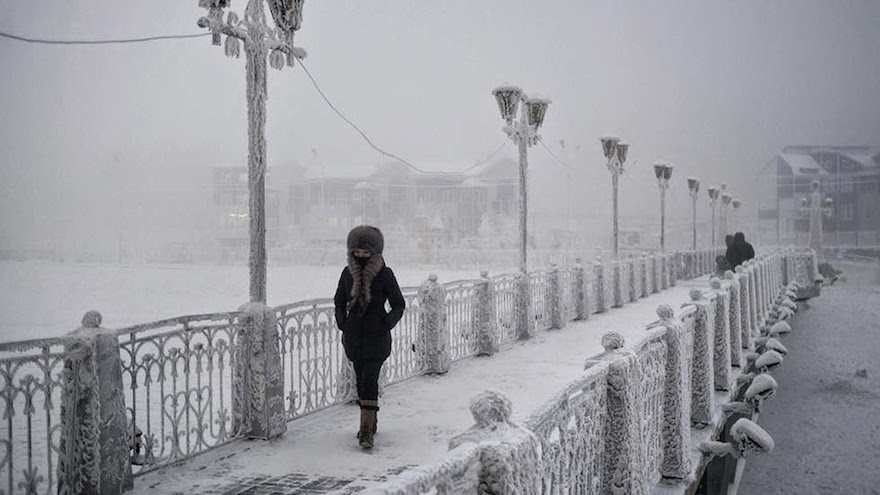 Generally the weather starts to dip down near late September reaching below 32 degrees F, the point of freezing. From here the thermostat only continues to fall, dipping as low as -58F, and lower.
Around mid-may the temperatures will start to surface back above freezing. The only months that the temperature does not fall below 14F are June and July, but that doesn't mean the summer months are by any means warm.
The coldest temperature ever recorded in Omyakon was on February 6, 1933 when the thermostat read an incredible -90 degrees Fahrenheit. The only other region on earth inhibited by humans that has reached this same level of chill is Verkhoyansk.
This poor guard dog wishes his owners would come take him out of the cold.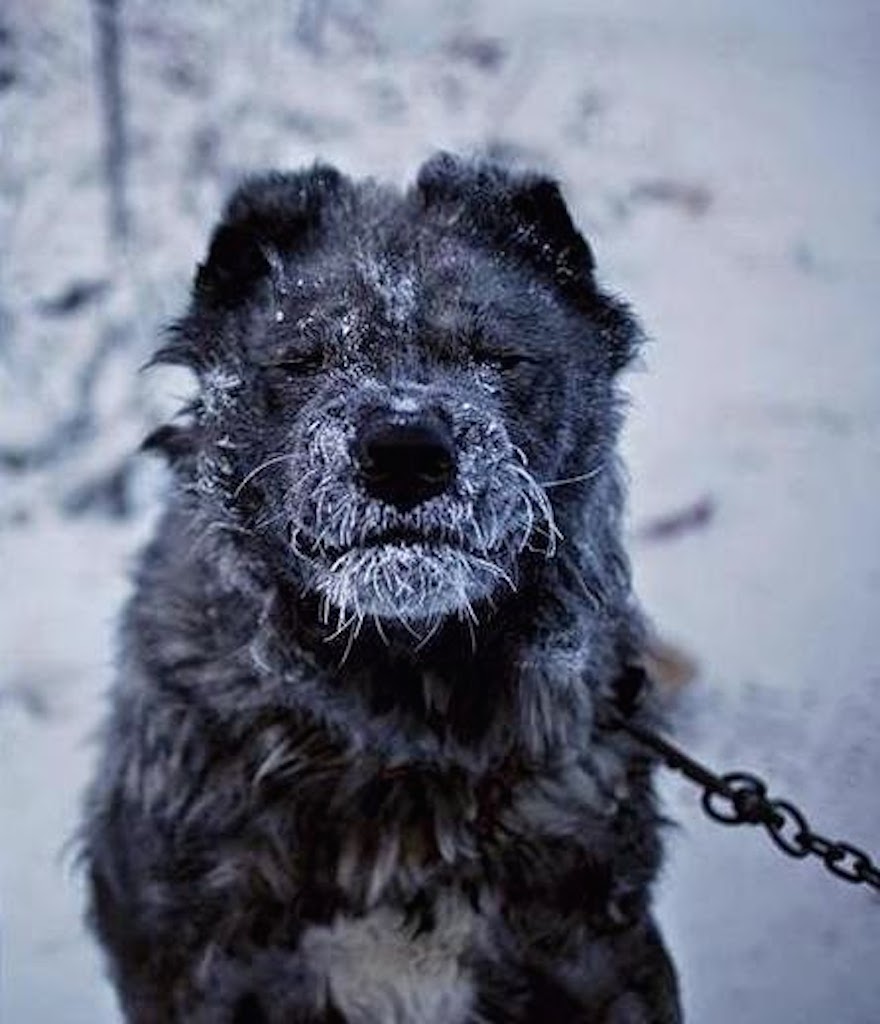 Petrol station midway between Oymyakon and Yakutsk. Extremely remote petrol stations such as this one are open 24 hours and staffed by men who have two-week on two-week off shifts.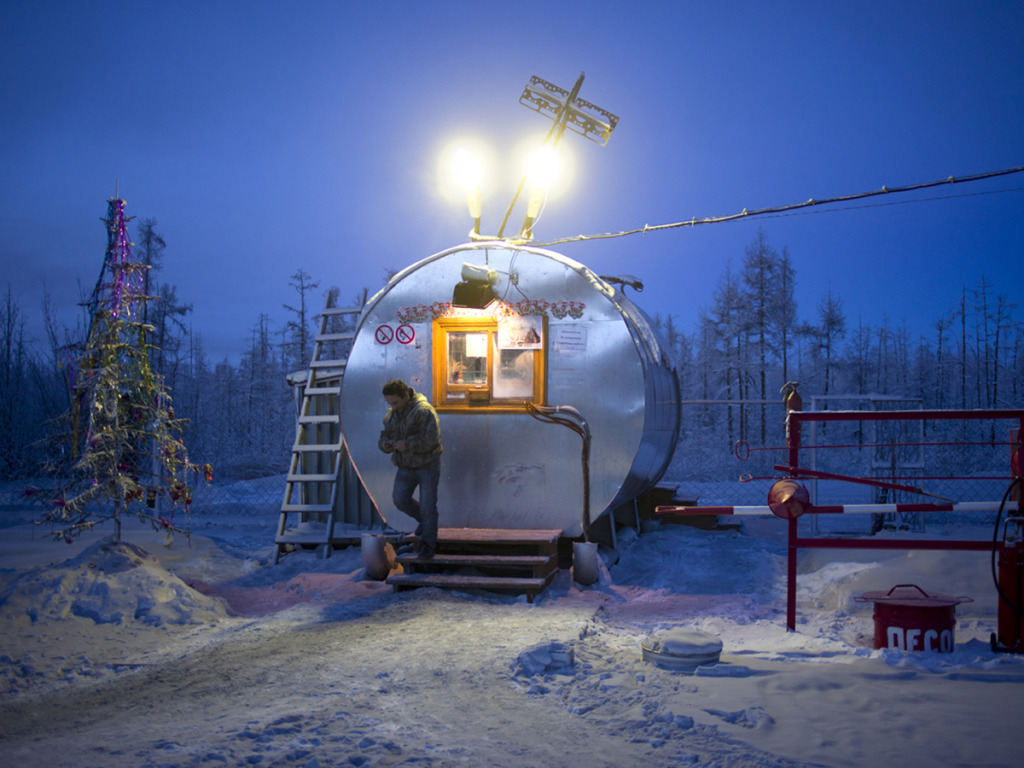 A petrol station and christmas tree on the road to Oymyakon. Cars must be run continuously when making the journey to Oymyakon; 24 hour petrol stations are essential to winter transport. Workers in the isolated petrol stations of the region work two-weeks on, two weeks off.
Journey to Oymyakon, considered by many to be the coldest permanently inhabited settlement in the world. The village was originally a stopover for reindeer herders who would water their flocks from a thermal spring. Known as the "Pole of Cold" the town of 500 once recorded a temperature of -71.2. Average temperatures in January are -50c. PHOTO BY AMOS CHAPPLE / REX FEATURES **NORTH/SOUTH AMERICA OUT**

Oymakon is largely fueled by the village heating plant, which constantly releases streaks of coal smoke into the air. You can see the smoke billowing during a traditionaly quiet dawn.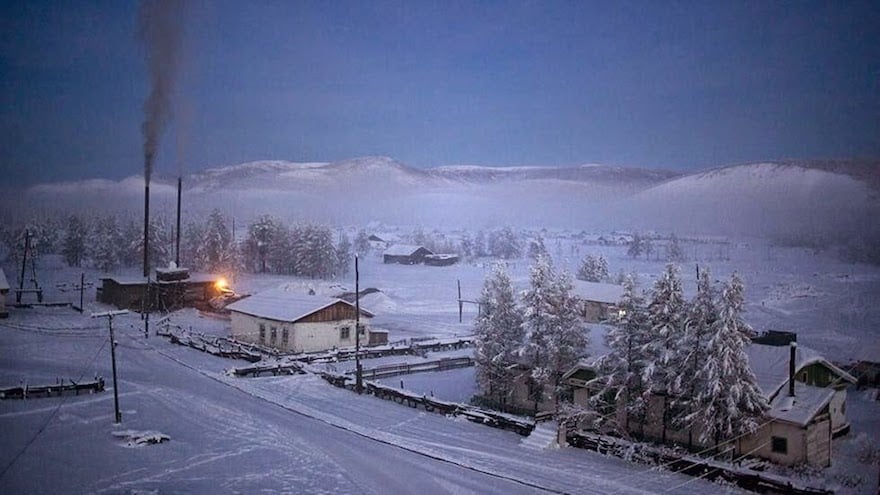 Interestingly, the city gets its name from the nearby Oymyakon River. The river's name is said to be based on the word kheim, meaning 'unfrozen patch of water; place where fish spend the winter.' Yet, another source says that the word is actually heyum, meaning 'frozen lake.' The second explanation seems to make more sense!
Someone hung their summer shoes out in the shed to wait out the winter.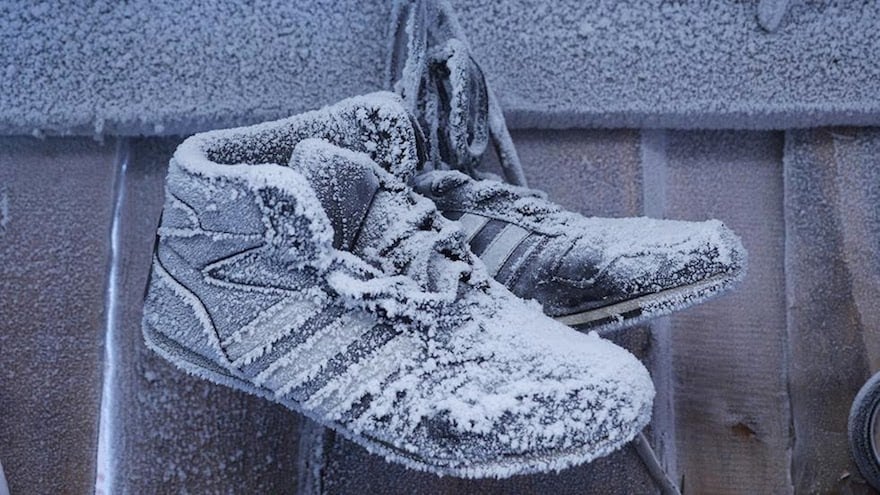 The village only has one shop that sales practically everything the rural community needs.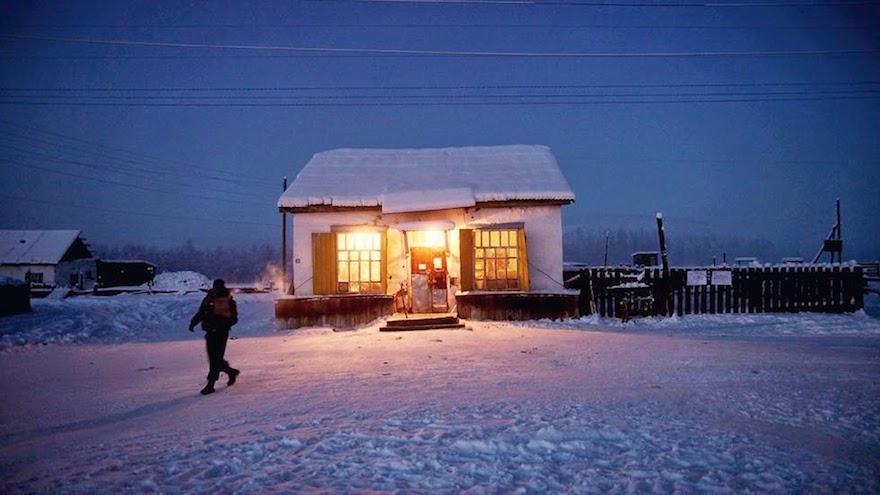 A villager races through the cold into the only store in town.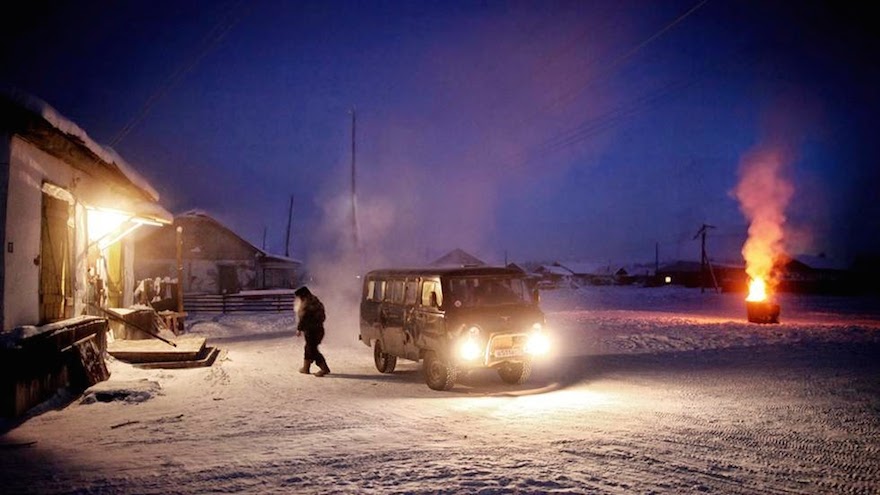 Amos Chapple says it was very challenging to photograph the village life here, simply because the locals are so hard to find! In order to survive the harsh winters they are swift about going in and out of the cold. Racing from one indoor place to the next, bundled up fully from head to toe. As a result, many photos make the location appear falsely desolate.
Ivan Kraft was the first governor of Yakutia, his statue sits in the city, frozen over most of the year.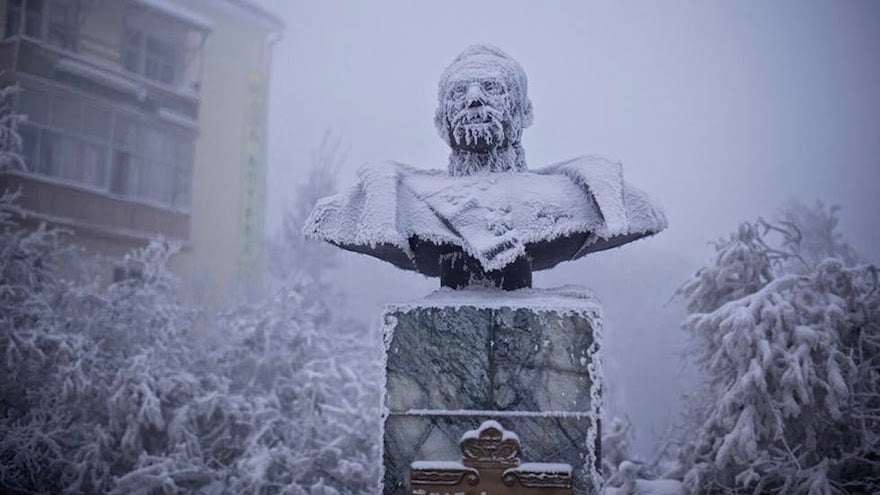 Frost-crusted statues in a Yakutsk park commemorating WWII.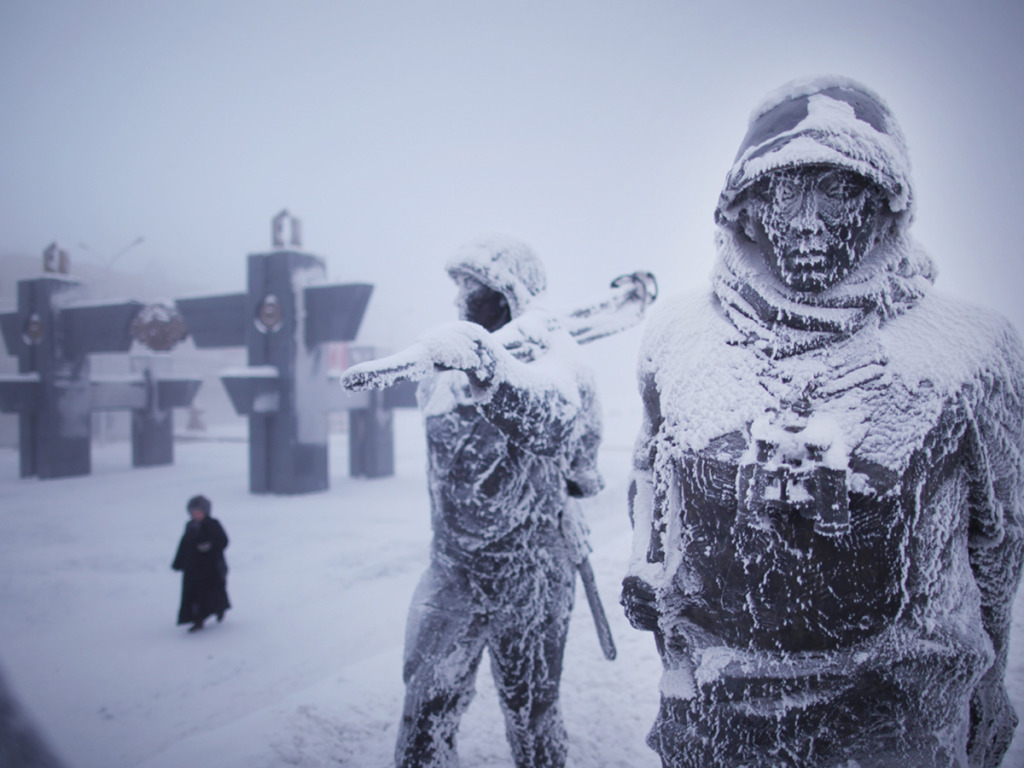 A local woman enters Preobrazhensky Cathedral in a swirl of freezing mist.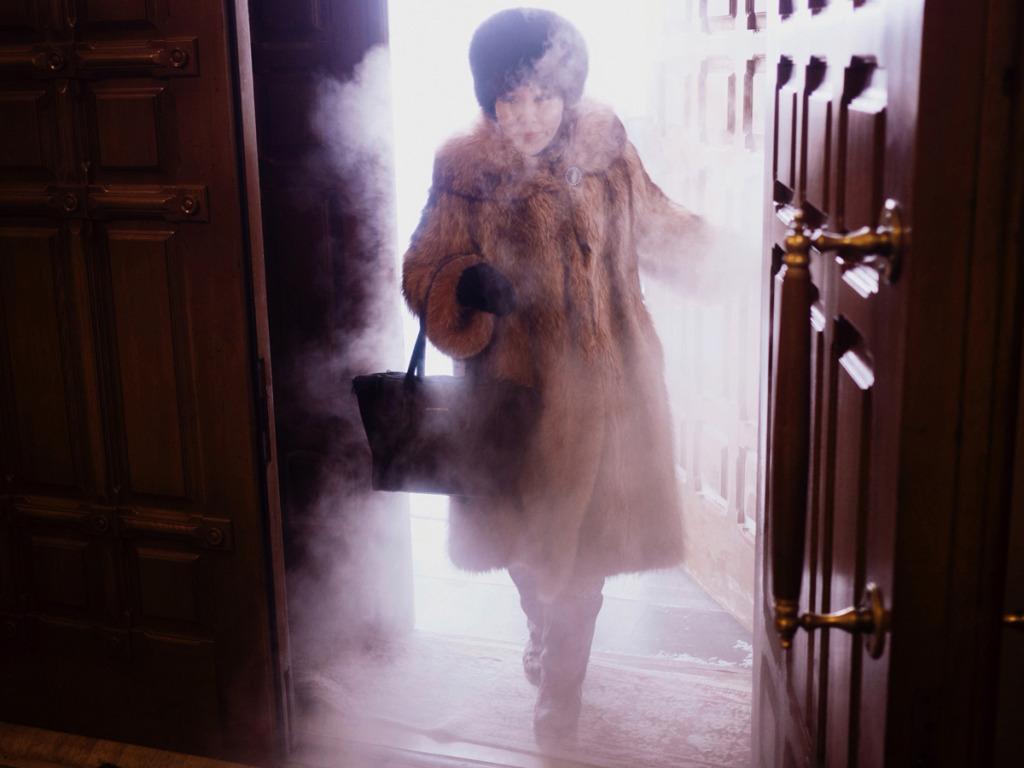 Local farmer, Nikolai Petrovich keeps his cows warm and cozy each night by tucking them away in this heavily-insulated barn.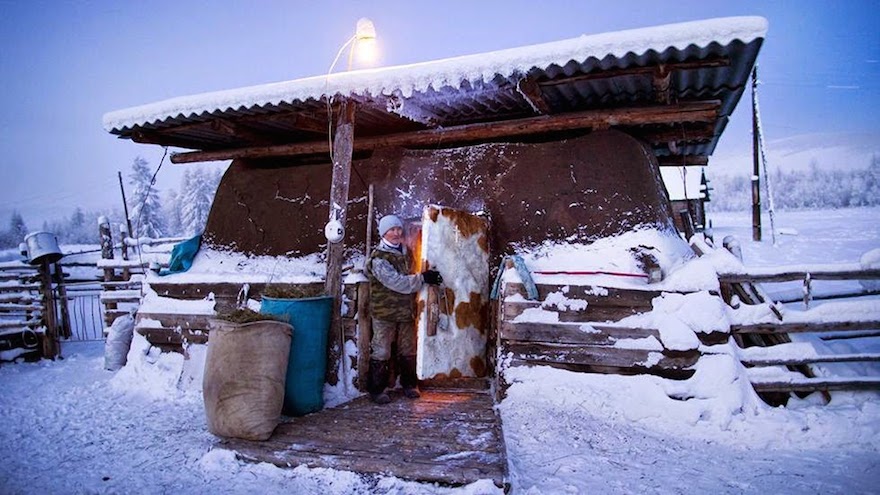 A local woman strolls across the street with a mitten pressed over her face, it was -63F on this day back in 2013.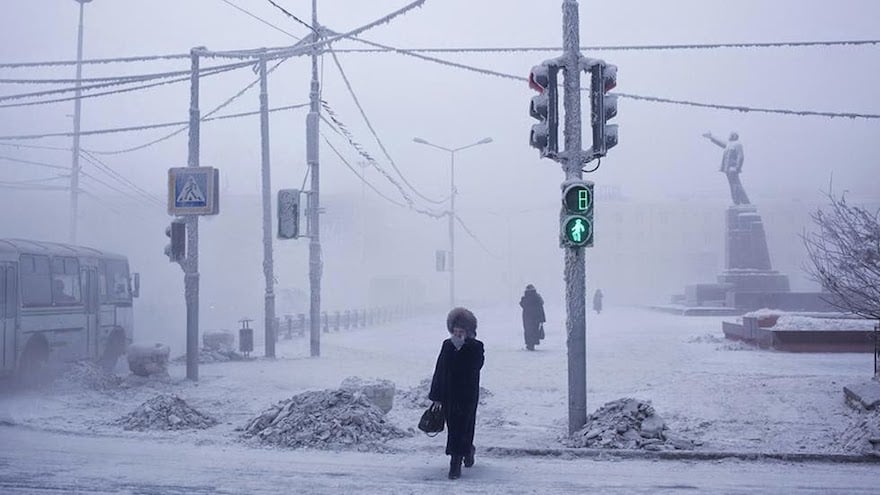 As a Southern Cali native, 60-degree weather can bring me to complete shivers, my body would likely morph into a cube of ice within moments of stepping foot outside here!
Right at city center, a house sits frosted over in ice and snow.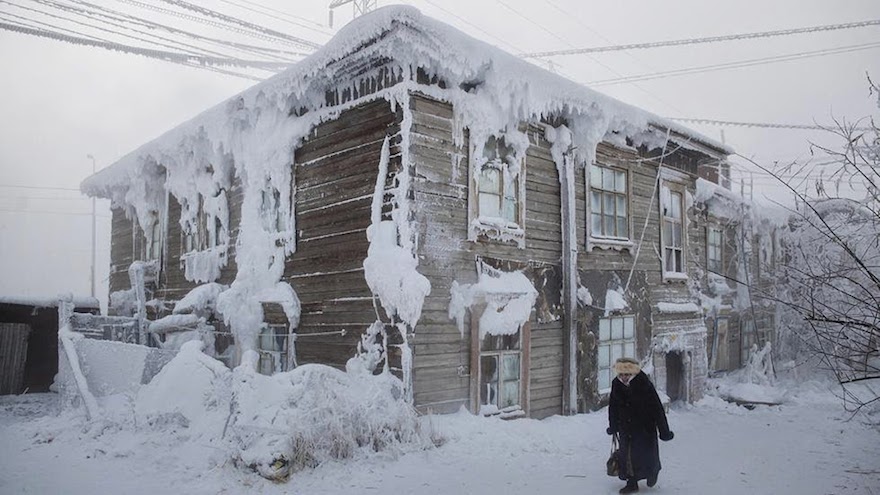 A local woman shops for food at the outdoor market.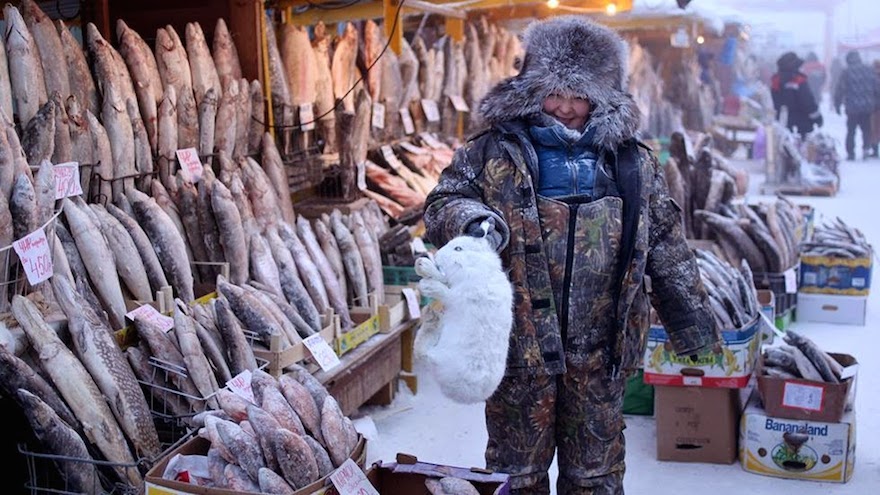 Have to go to the bathroom while traveling into Oymyakon? You can always stop at this toilet located on the side of road.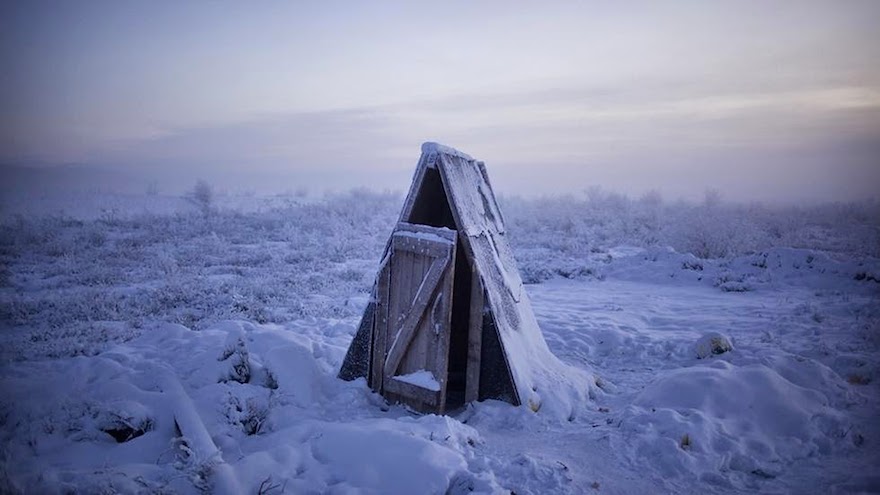 Since the ground is frozen all of the time, plumbing is very difficult to dig, meaning most toilets include long drops.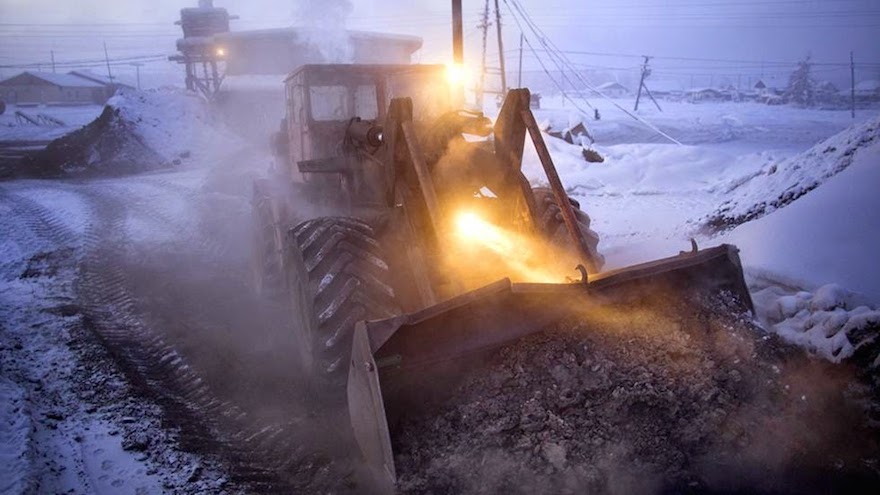 This digger delivers coal to the heating plant each morning in order to keep the town residents from freezing over.

1. Coldest place on earth: Oymyakon, Russia:

[youtube width="800″ height="500″]https://www.youtube.com/watch?v=oWkItxxhNME[/youtube]

2. Extreme cold travel; Travelling with the reindeer people in below 50 minus in Siberia:

[youtube width="800″ height="500″]https://www.youtube.com/watch?v=1fDGejVDAHU[/youtube]



Here is quick facts of Oymyakon, Russia – Coldest place on the earth (Where human lives)



Oymyakon is the coldest place on the earth, with average lowest temperature of around -52.3 degree celcius. This temperature is sufficient enough to convert boiling water into chilling ice within a second. Ironically, Oymyakon actually means water that never freezes.
Oymyakon, population 500, is in eastern Yakutia at approximately 750 meters above sea level. At the village's northerly position, day length varies from 3 hours in December to 21 hours in June.
With an extreme subarctic climate (Köppen climate classification Dwd), Oymyakon is known as one of the candidates for the Northern Pole of Cold, the other being the town of Verkhoyansk. The ground there is permanently frozen
On February 6, 1933, a temperature of −67.7 °C (−90 °F) was recorded at Oymyakon's weather station.This is, along with the same reading at Verkhoyansk, the lowest recorded temperature for any permanently inhabited location on Earth. It is also the lowest temperature recorded in the Northern Hemisphere.Only Antarctica has recorded lower official temperatures (the lowest being −89.2 °C (−128.6 °F), recorded at Vostok Station on 21 July 1983. So, coldest temperature ever recorded or lowest temperature ever recorded on earth is −89.2 °C (−128.6 °F)

What was the lowest temperature ever recorded?:
−89.2 °C (−128.6 °F)
Where was the lowest temperature ever recorded on earth?:
Soviet Vostok Station in Antarctica, on July 21, 1983.
Oymyakon Russia Population:
500
Oymyakon Coldest Temperature:
−67.7 °C (−90 °F)
Oymyakon Average Temperature:
-52.3 °C
What do you think, could you survive here?!
Read Also: Survival In Frozen Desert -55 Degrees | Norilsk Siberia Russia

Share If You Like!!
Photo Credits: Amos Chapple
H/T – earthporm.com

[divider scroll_text="Back To Top"]