Remember the previous Frooti ad with SRK and that amazing jingle that we all loved? Underlining the 'Fresh and Juicy' proposition began then and this year, the Parle Agro brand has completely revamped itself.
This time around, with the logo change after a 30 year-long run for the previous one, the product has been made the hero.
Continuing that into their new seasonal TVC, Frooti collaborated with a New York based studio Sagmeister & Walsh, to create a new visual grammar for the brand. The idea here is again to create a miniature world where the product remains the focus with it being regular size. The 3D printed miniatures are charmingly captured as they try and manipulate the mango in a world that is exploding with gorgeous colours and striking visuals.
Having made these points, what adds life to this ad is the jingle, composed by the veteran Amit Trivedi. Jingles have always been major contributors in making ads memorable. With this one, it sets out to create a new style of lingo that sticks with you.
Oh and there's SRK but he doesn't really steal the show.
The Frooti Life -Watch the ad here:

Extending this, S & W has also created a lot of visual play around mangoes as well as the product keeping it Summery and colourful.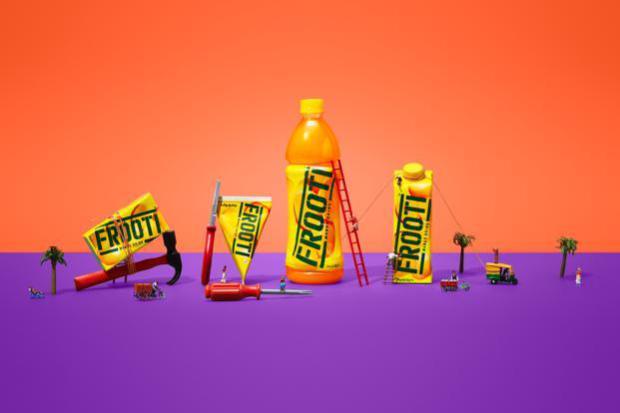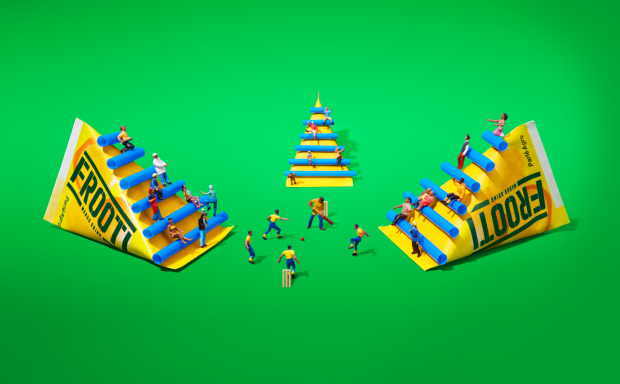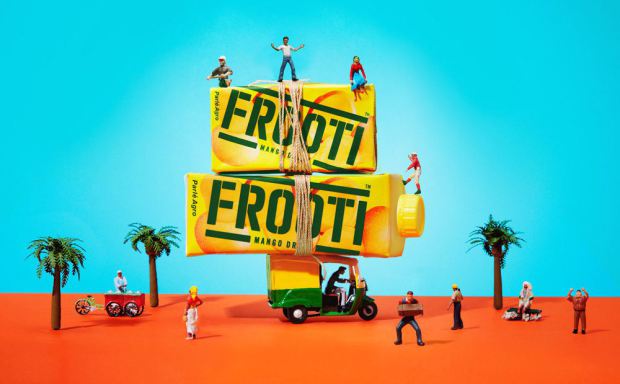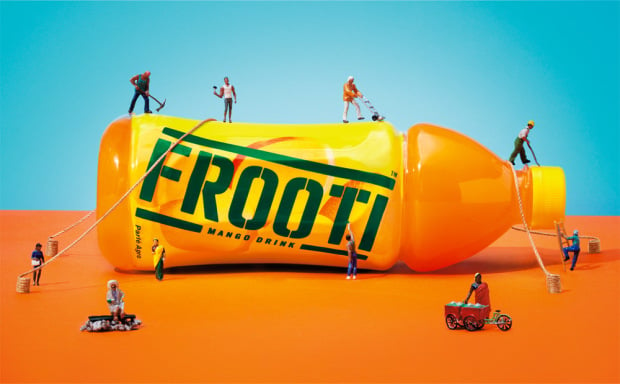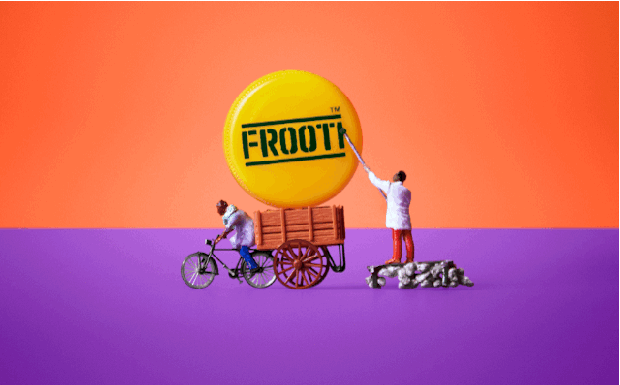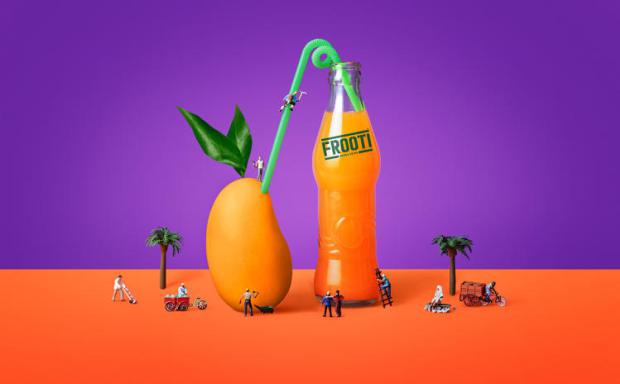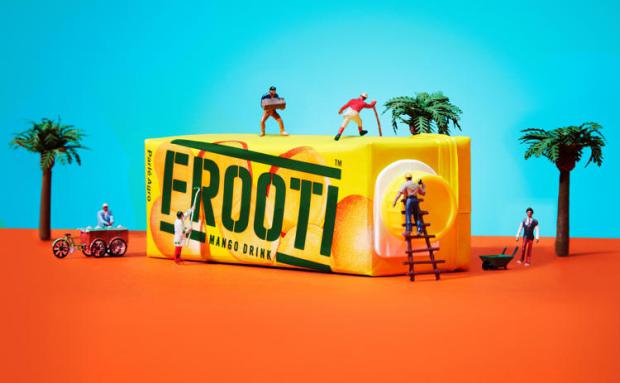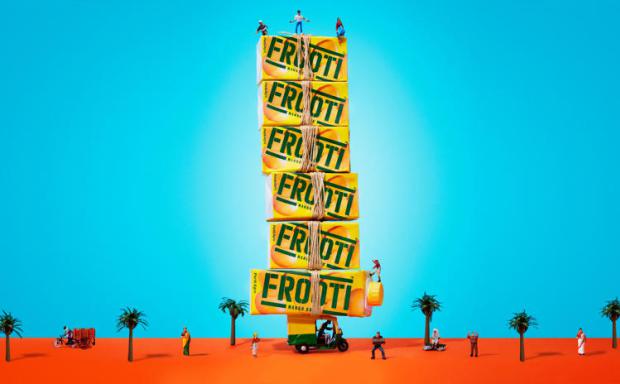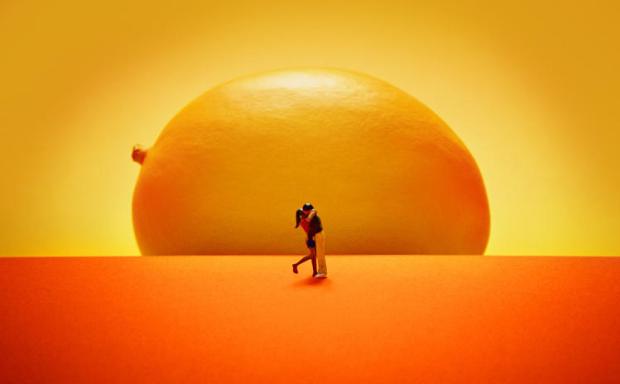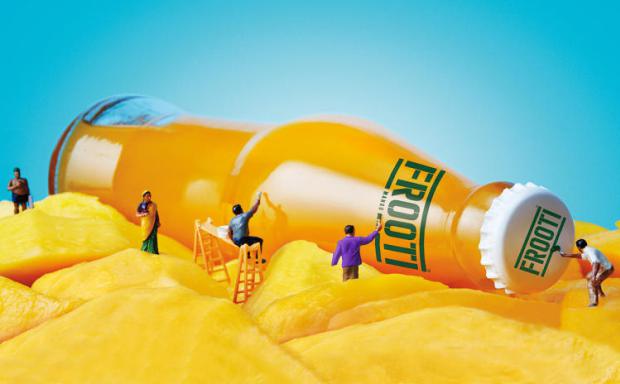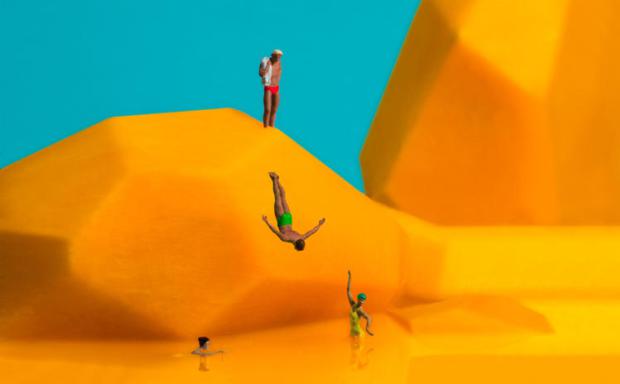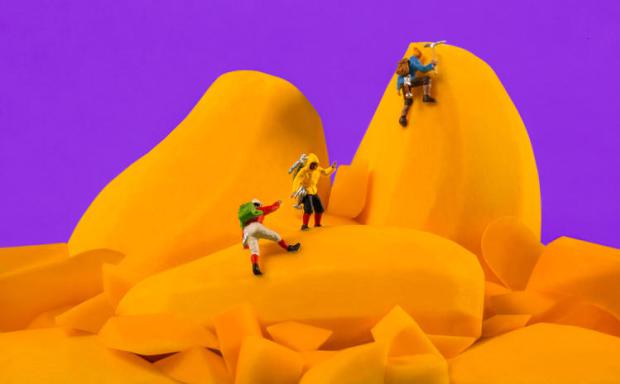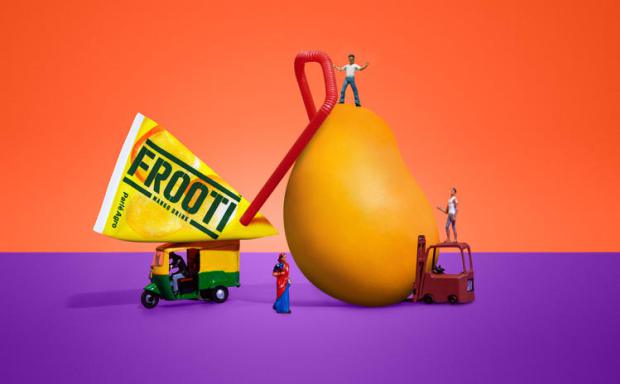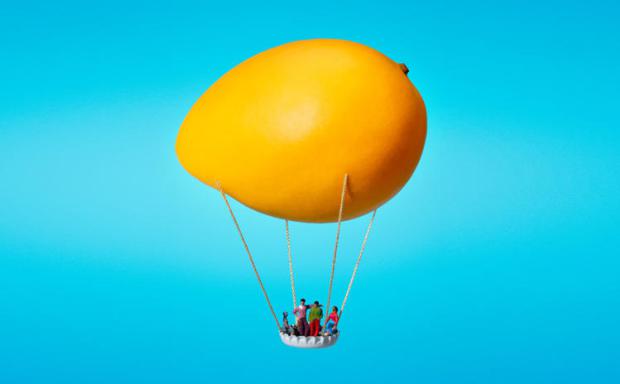 What is Mango Frooti?
Frooti is the largest-selling mango flavored drink in India. It is the flagship product of and the most successful drink offered by Parle Agro India Pvt. Ltd. in India and Parle Agro Nepal Pvt. Ltd. in Nepal. Frooti was launched in 1985 in TetraPak packages. It is also now available in PET bottles and rectangular shaped packs. Frooti is exported to the United States, Canada, the United Kingdom, the United Arab Emirates, Saudi Arabia, Malaysia, Maldives, Singapore, Thailand, New Zealand, Australia, Mozambique, Ghana, Malawi, Zambia, Nigeria, Tanzania, Japan, Ireland, etc. Frooti is currently endorsed by Shah Rukh Khan, in India.
Ingredients of Mango frooti
Frooti contains mango pulp, water, sugar, citric acid, ascorbic acid,salts, and approved colouring and flavouring.
Frooti Ad 2013: Shahrukh Khan
Mango Frooti, Fresh 'n' Juicy has been spreading its magic for almost three decades now. And this time around, it has cast a spell on none other than the King Khan himself.  Bollywood 'king' Shah Rukh Khan will now endorse Frooti, made from the king of fruits — mango. He has shot a TV commercial for the brand with children. And the best part of the Ad is Music. So different from what we hear on TVs these days. Ad is Conceptualized by Creativeland Asia. And produced by Nirvana Films. Music by Amar