The World's Largest Cargo Plane Antonov AN-225 Can Swallow a Boeing – 737 Whole!
Anyone who's seen an Airbus A380 knows how ridiculously large it is. Certified to carry up to 868 passengers across two decks, the aircraft stretches 80 meters (262 feet) from wingtip to wingtip and 73 meters (239 feet) from nose to tail. But, did you know that there's an even larger aircraft lumbering through the skies?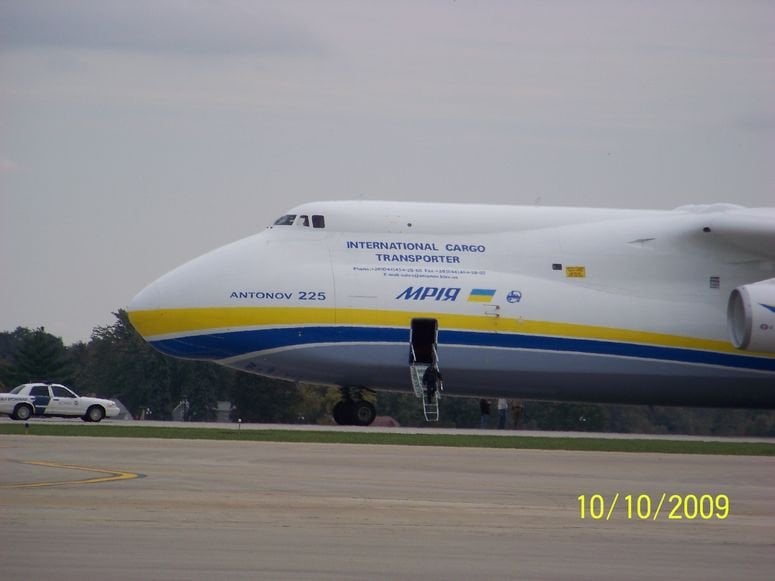 The Antonov AN-225 cargo lifter is truly one of a kind; indeed, there was only one ever built. Originally built by the Soviets to carry their space shuttle, the gargantuan aircraft is now operated by Ukrainian-based Antonov Airlines for charter cargo flights.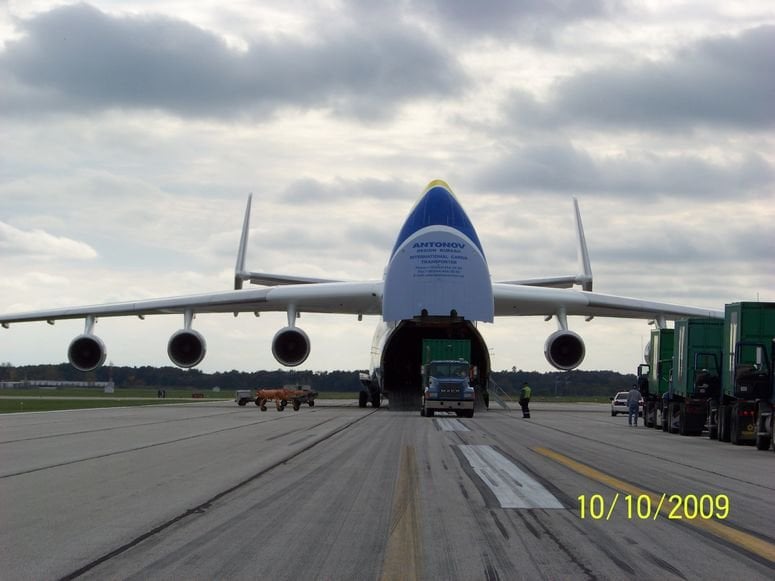 Whether you need to get an airliner across a continent without flying it, piggyback a space shuttle to its launch site, or ship Snoop Dog's oversized tour stage to Nigeria, you're going to need the world's biggest and strongest aircraft: the Antonov An-225.
General characteristics & Specifications of Antonov AN-225 Mriya
Crew: 6
Length: 84 m (275 ft 7 in)
Wingspan: 88.4 m (290 ft 0 in)
Height: 18.1 m (59 ft 5 in)
Wing area: 905 m2 (9,740 sq ft)
Aspect ratio: 8.6
Empty weight: 285,000 kg (628,317 lb)
Max takeoff weight: 640,000 kg (1,410,958 lb)
Fuel capacity: more than 300,000 kg (661,000) lbs[52]
Cargo hold – volume 1,300 m3 (46,000 cu ft), 43.35 m (142.2 ft) long × 6.4 m (21 ft) wide × 4.4 m (14 ft) tall
Powerplant: 6 × Progress D-18T turbofans, 229.5 kN (51,600 lbf) thrust each
Performance of Antonov AN-225 Mriya
Maximum speed: 850 km/h (528 mph; 459 kn)
Cruise speed: 800 km/h (497 mph; 432 kn)
Range: 15,400 km (9,569 mi; 8,315 nmi) with maximum fuel; range with 200 tonnes payload: 4,000 km (2,500 mi)
Service ceiling: 11,000 m (36,000 ft)
Wing loading: 662.9 kg/m2 (135.8 lb/sq ft)
Thrust/weight: 0.234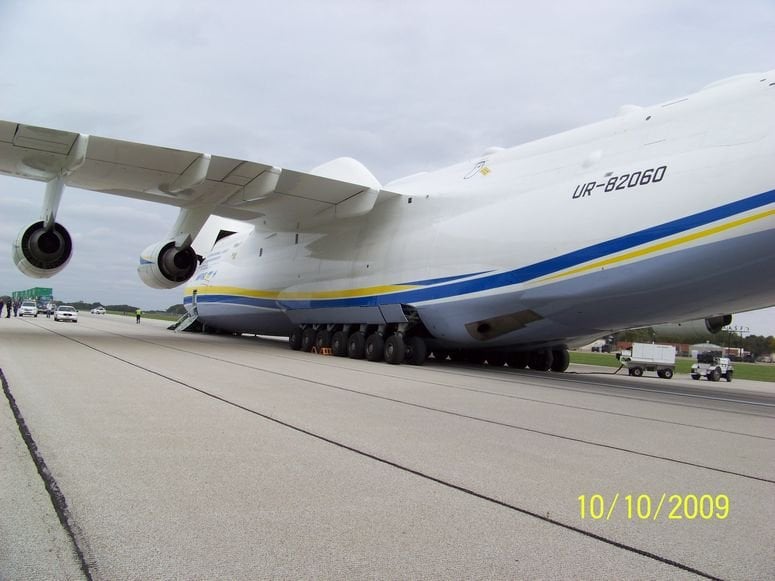 Being the only aircraft of its type, few have even seen the beast. Fewer have gotten to see it on the ground. Even fewer have had the chance to see inside her. But, thanks to the An-225's surprise last-minute appearance at ILA Berlin, we got a chance to explore the one-of-a-kind cargo transporter in detail.
First, let's talk about the outside. The aircraft stretches 88.4 meters (290 feet) from wingtip to wingtip and 84 meters (276 feet) from nose to tail. That's 8.4 meters (22.5 feet) wider than Airbus' A380.
The aircraft is powered by six Ivchenko Progress D-18T turbofan engines — three on each side.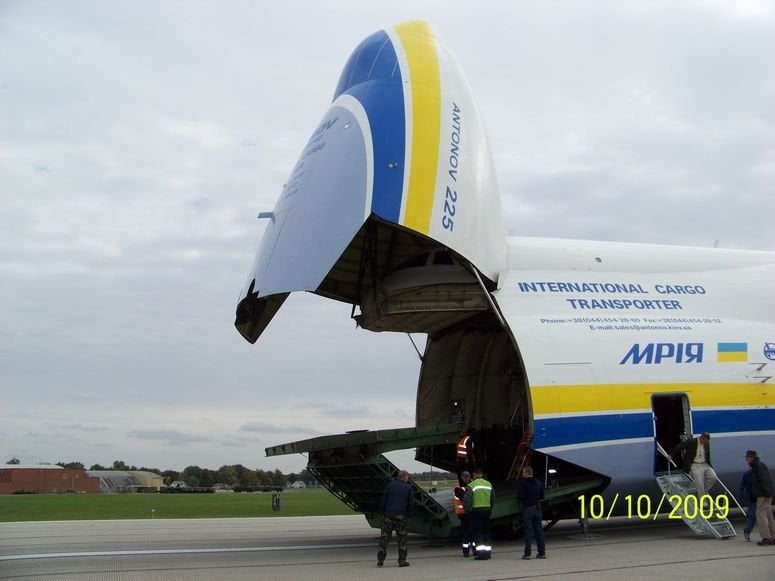 Designed at the end of the Cold War, the An-225 was built as a replacement for the Myasishchev VM-T to carry the Soviet Union's Buran space shuttle between launch and landing sites. The An-225 is based on the earlier An-124 "Ruslan", however it includes additional turbofan engines, a reinforced floor, and stronger, 32-wheel landing gear set than its predecessor. In all, the An-225 utilizes six Progress D-18 turbofans, each producing 51,600 lbf of thrust to haul its massive loads of cargo. This massive plane holds the world records airlifting a single-item payload—a gas power station generator weighing 418,834 pounds—and for airlifting a total payload of 559,577 pounds.
It's not just the wings that are massive; the horizontal stabilizer itself is 32.65 meters wide (107 feet). For reference, the Airbus A320 family has a wingspan of 35.8 meters (117 feet) — just narrowly larger than the An-225's horizontal stabilizer.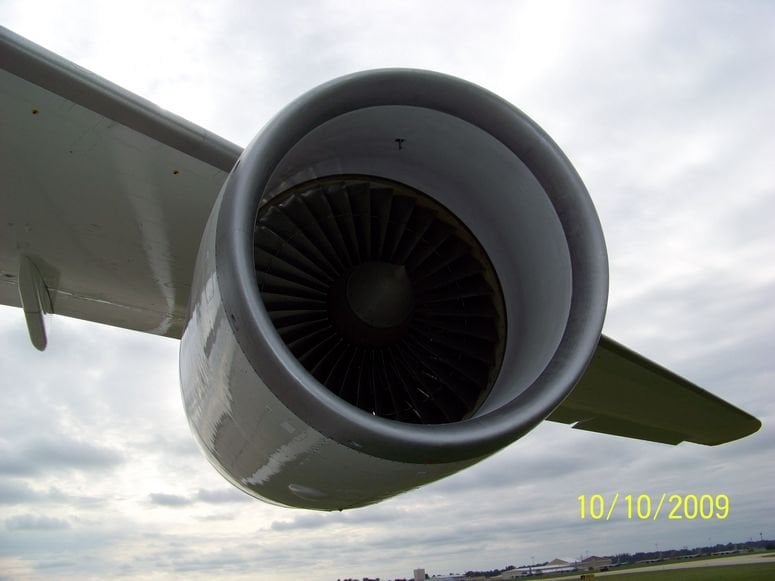 In order to load cargo, the massive nose opens upward and a tongue-like cargo loading ramp unfurls. Here's that 7+-minute process sped up and in reverse:
Only one part of this process is done manually: unfolding the last bit of the ramp:
For cargo that can't be rolled in, the cargo bay has two cranes each capable of lifting 10 tons at a time. With supplementary equipment, the crew can load up to 30 tons of non-mobile cargo at once.
Inside, the massive cargo bay measures 43.32 meters (142 feet) long by 6.4 meters (21 feet) wide by 4.4 meters (14.4 feet) tall, for an impressive volume of almost 1,300 cubic meters / 45,000 cubic feet / 34,000 gallons. To give you an aviation scale of just how long this cargo bay is, the Wright brothers' first-ever flight (120 feet) is shorter than this cargo bay.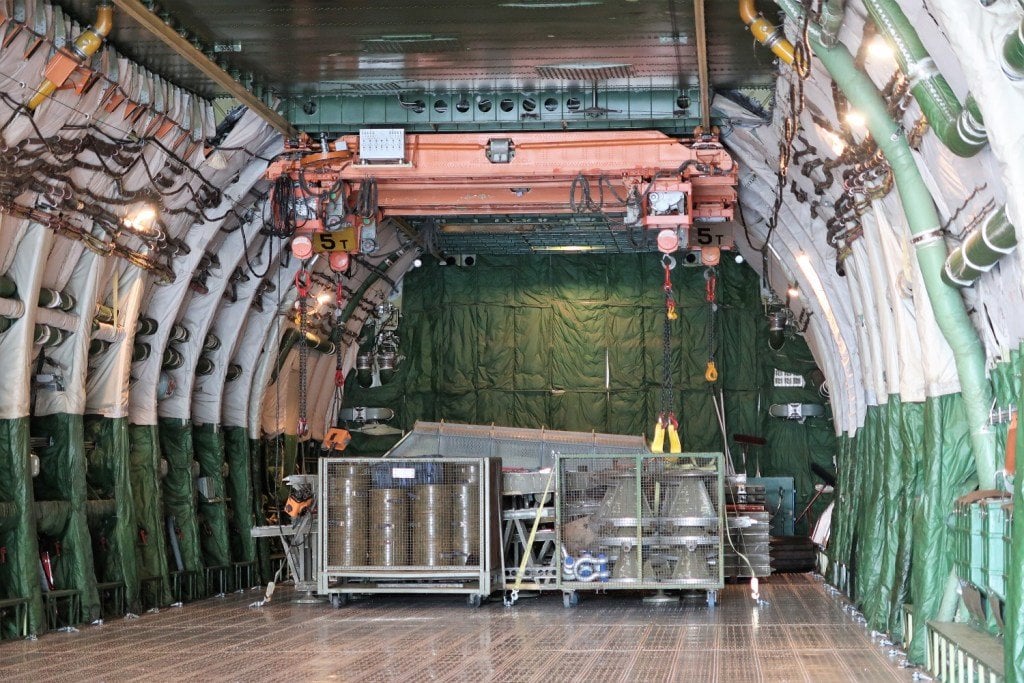 The gear consists of 32 wheels: 28 in the main gear as seven rows of four.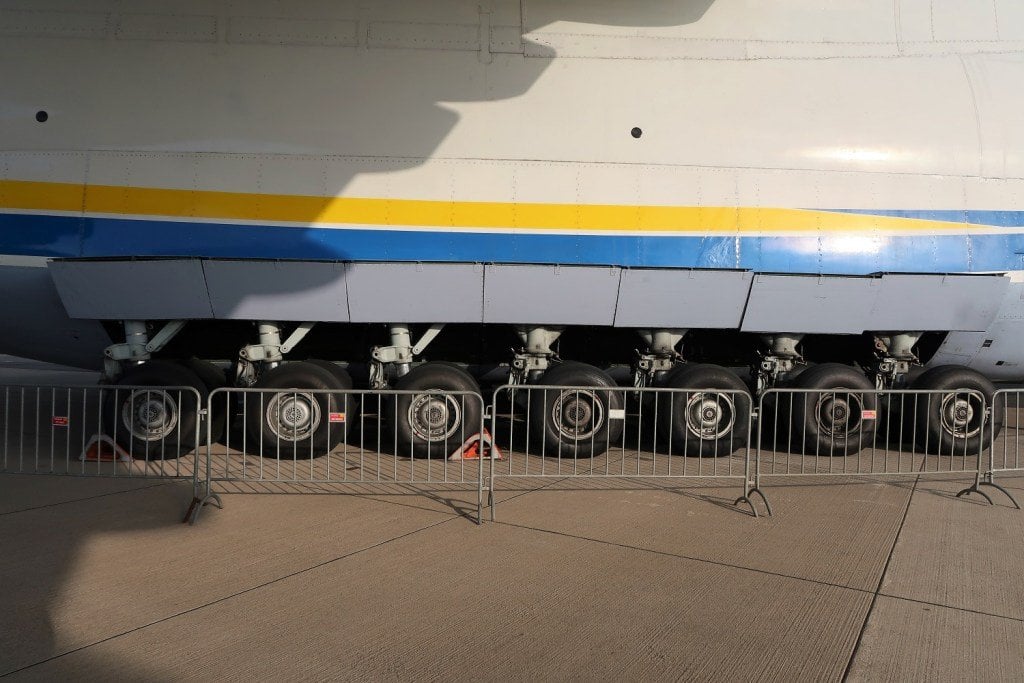 With four wheels in the nose gear.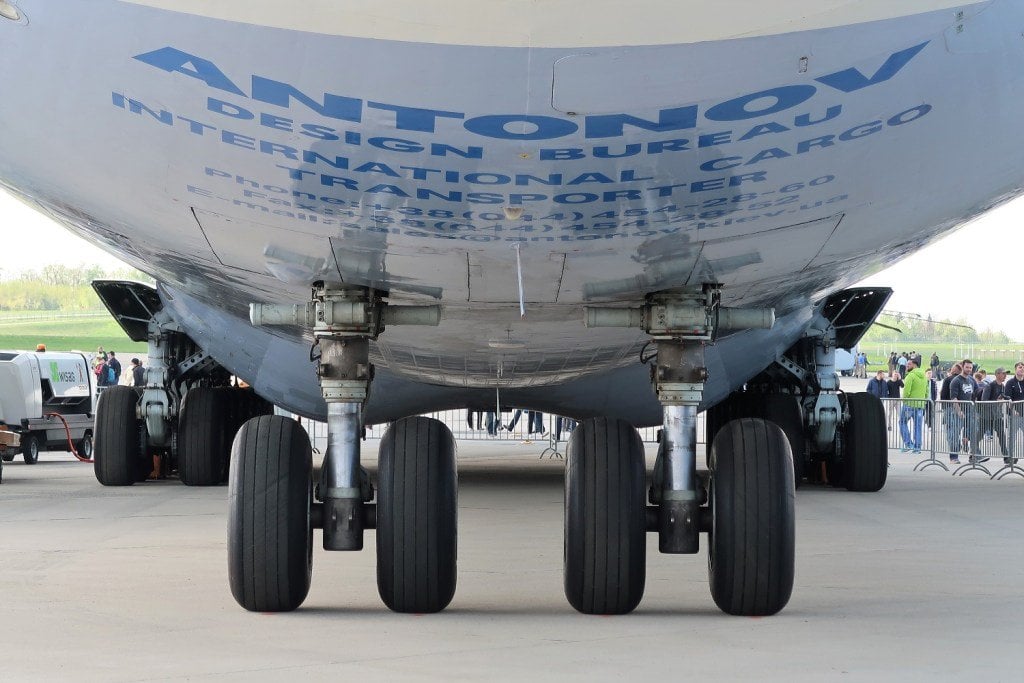 And, with that many wheels and being the only aircraft of its type, Antonov Airlines makes sure to carry spare wheels. During its visit to ILA Berlin, it had five spares on board.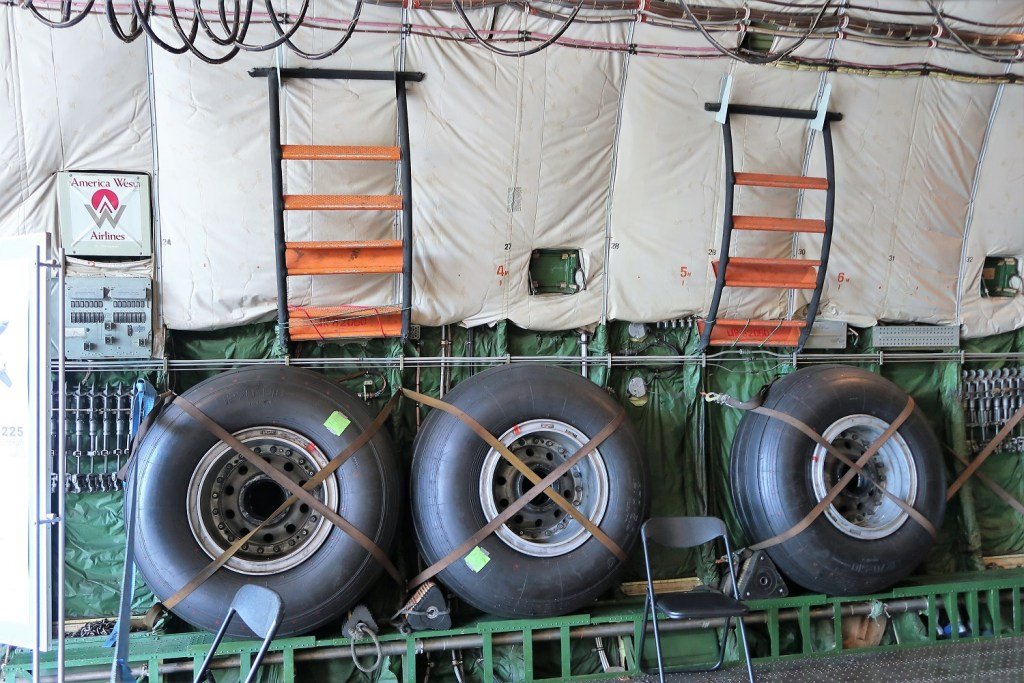 Wondering about that America West decal? There are a lot of decals slapped onto any flat metal surface.
As it's not intended for passengers, there aren't many windows on the cargo bay. There's only four strategically placed portholes to allow visual inspection of the wings and engines during flight.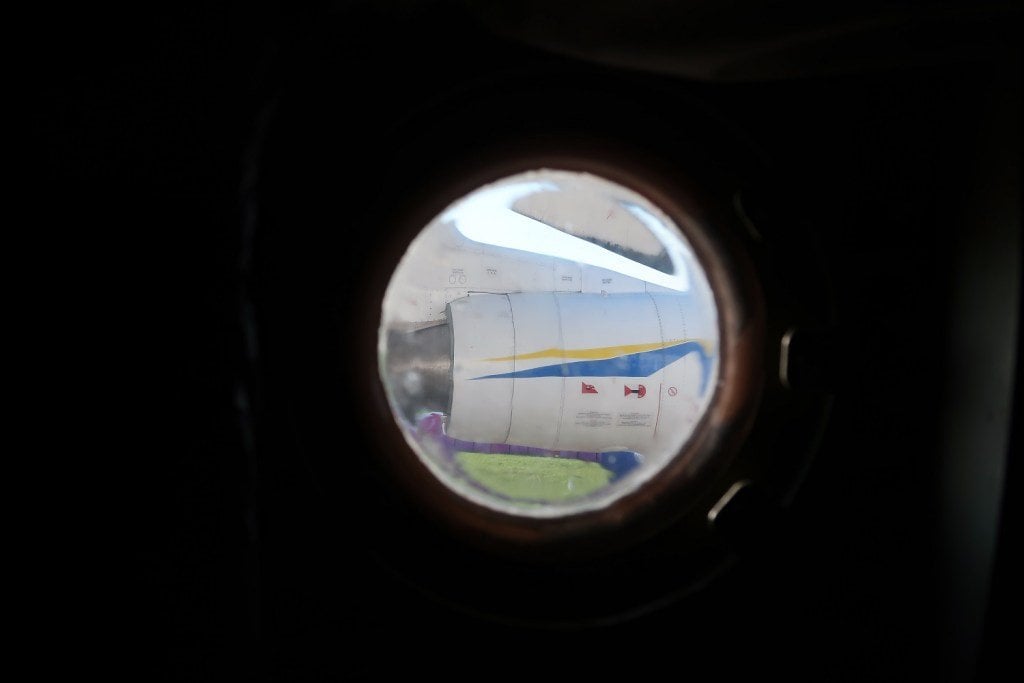 With the main deck dedicated to the cargo bay, you have to climb a ladder to get up into the cockpit.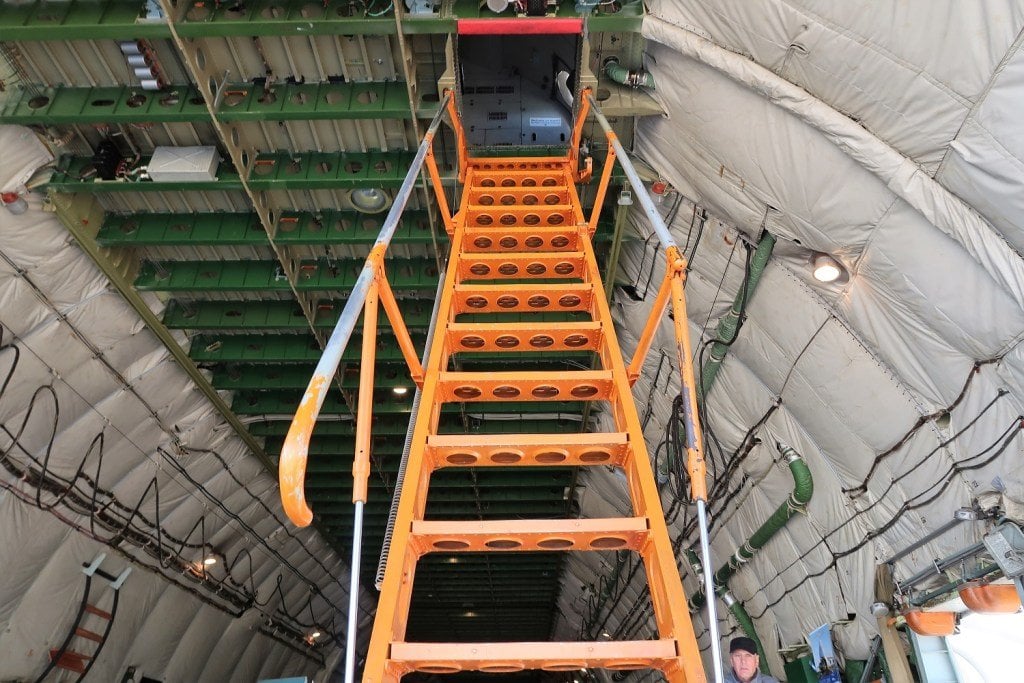 While it's an incredibly impressive machine, the An-225 doesn't exactly have a modern cockpit.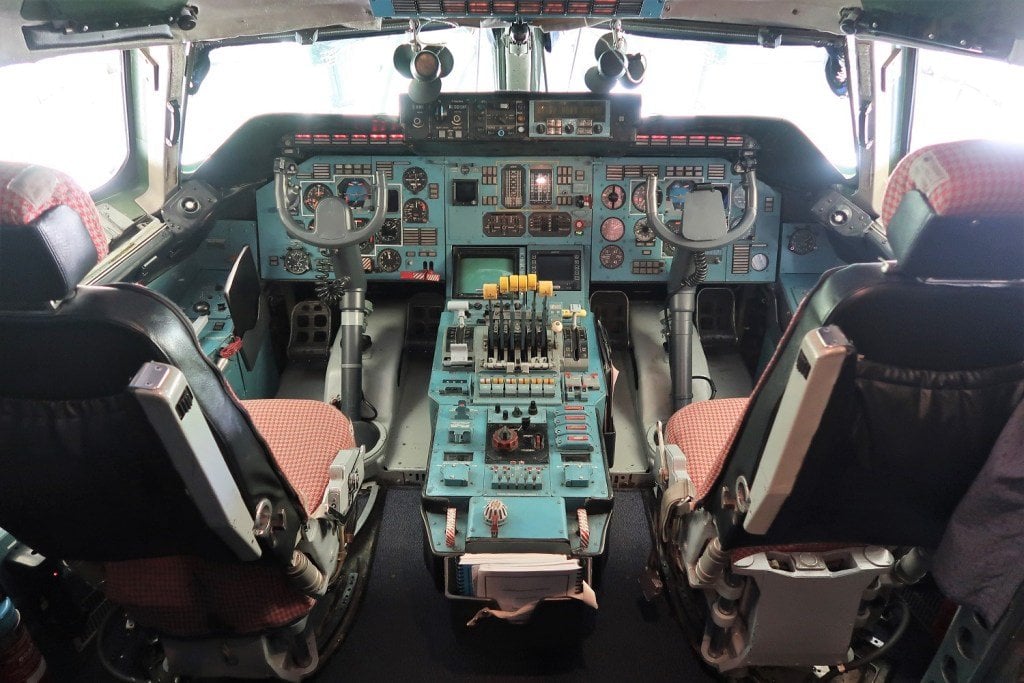 Six cockpit crew are required to operate the behemoth: two pilots and four engineers.
Suggested Read: The Top 5 Largest Aircraft In The World
As on many aircraft, the pilots steer by yoke.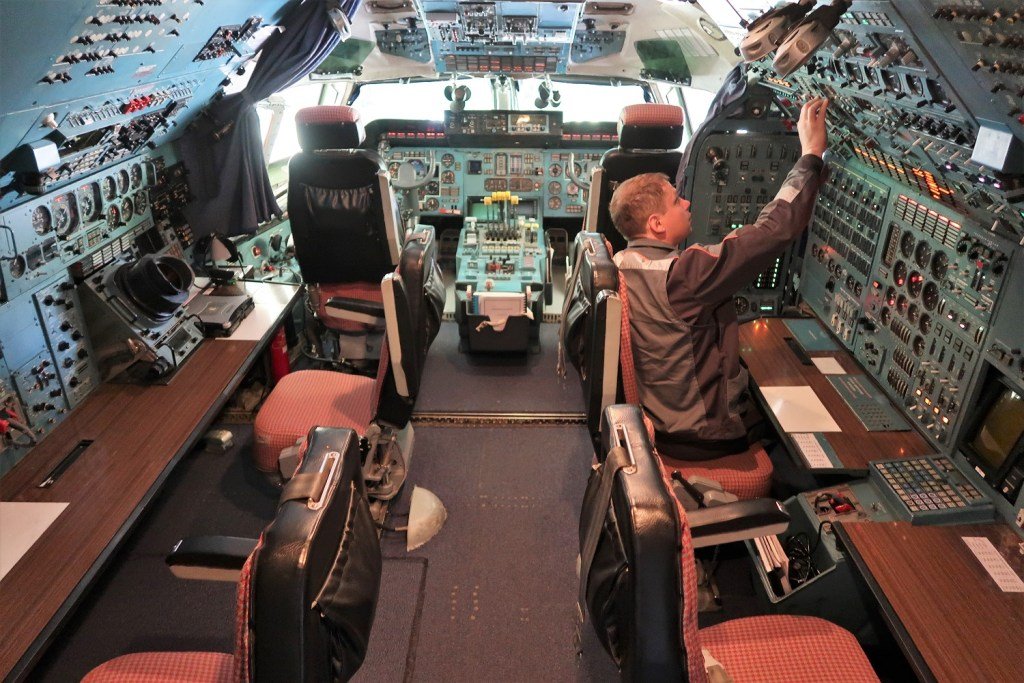 But, there aren't many cockpits with six thrust levers!
Of course, I couldn't pass up the opportunity to take a photo at the controls.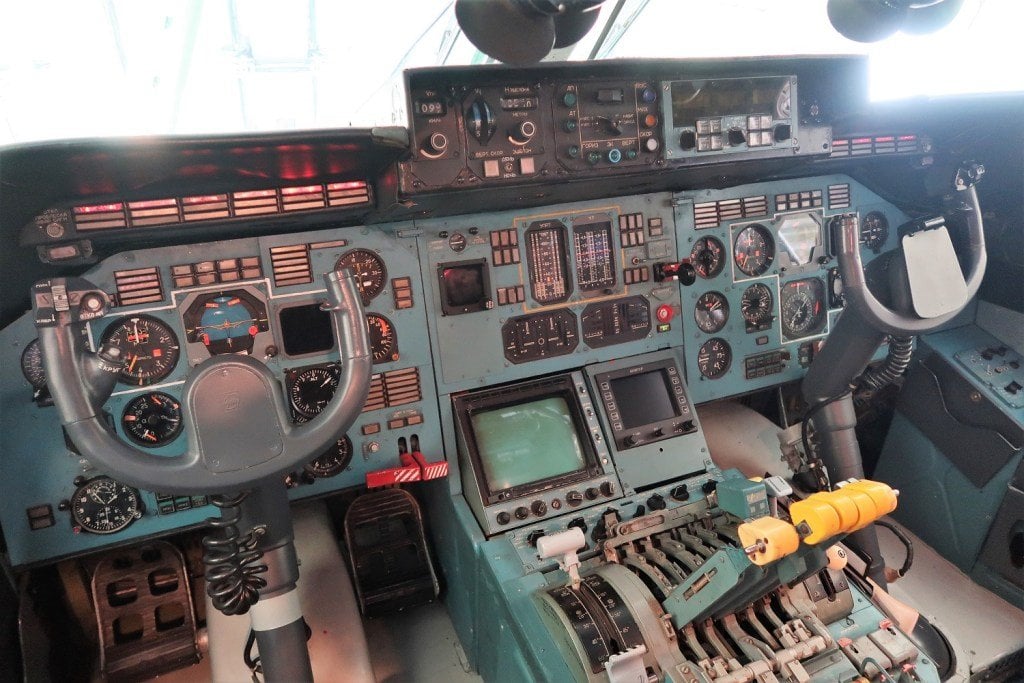 In a cabin behind the cockpit, pilots and flight crew have six bunks for rest. There are two mini-cabins with two stationary bunks and one bunk that can fold down over a table.
While there's a crew of six that are required in the cockpit, there are even more crew that are needed to operate this cargo transporter. In total, 19 or 20 crew members travel full-time with the An-225.
Those non-flight crew members have a dedicated cabin and rest area accessible through a tight staircase in the tail.
Inside, there are 20 economy-style crew seats arranged in a 2-3 seating arrangement.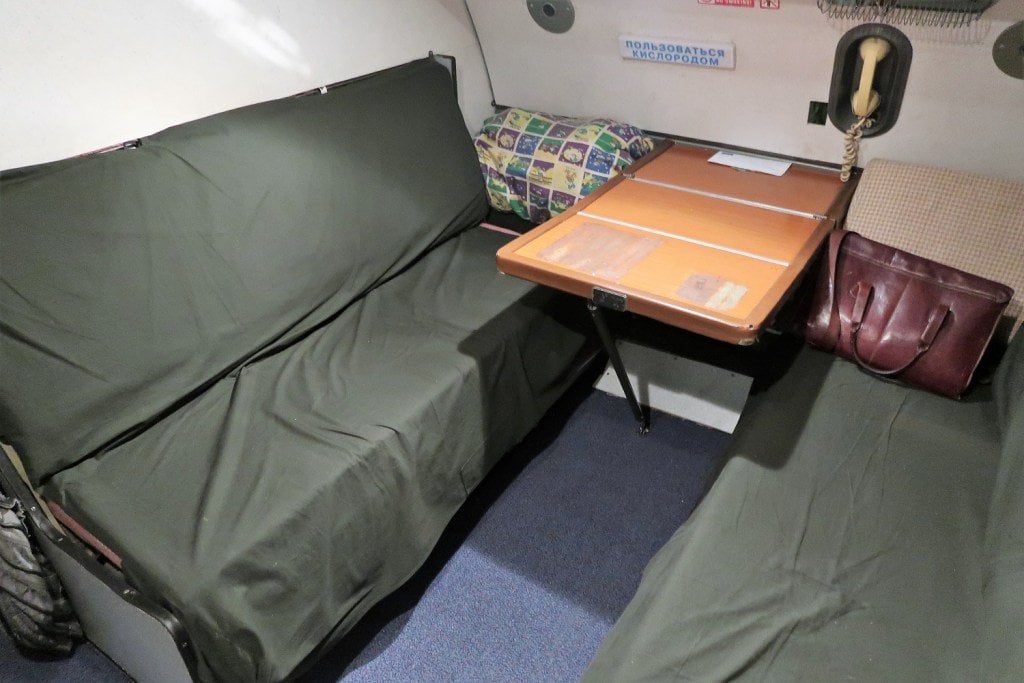 The pitch is a tight 30 inches.
There are 12 bunks for crew in a cabin forward from the seats.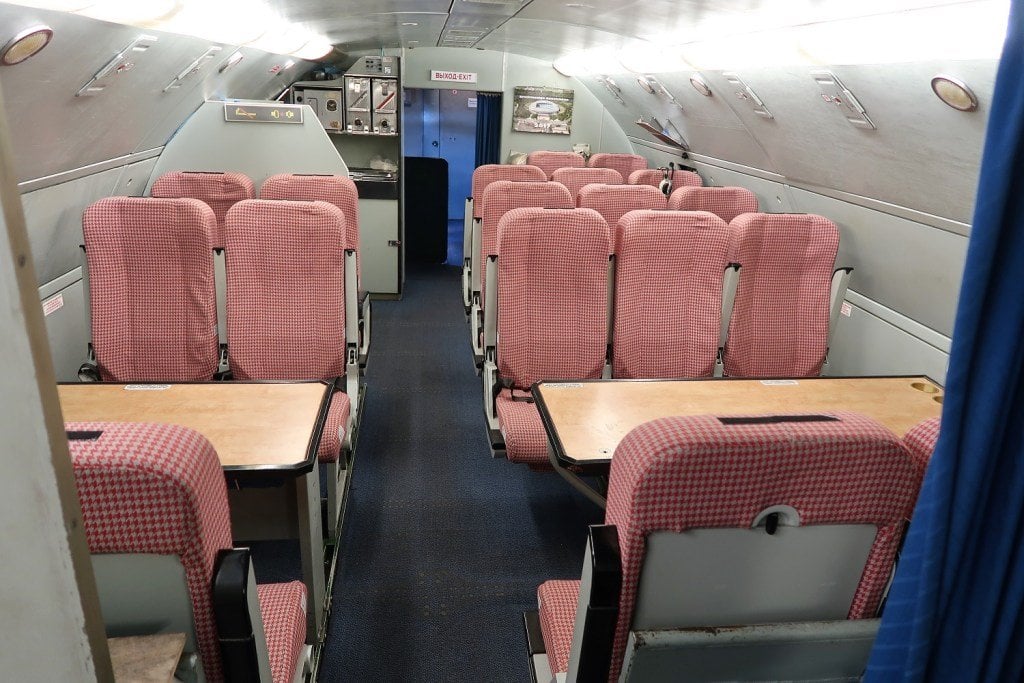 The pilot rest area is separated from the crew rest area by an avionics bay, meaning the only way to get from this crew area to the cockpit is to go down through the cargo bay.
Soon, the An-225's reign as the world's-largest operating aircraft will come to an end. The six-turbine 385-foot wide Stratolaunch is expected to take its first flight this summer. However, the An-225 will still be first in cargo capacity… and in the hearts of so many AvGeeks.
What does the Antonov 225 carry?
The AN-225 Mriya. With a maximum payload of over 250 tons and a cargo hold capacity of 1,100 cubic meters, the world's largest cargo aircraft is the Antonov AN-225. It requires six Ivchenko Progress D-18T turbofan engines to carry its payload in the air. The maximum gross weight is 640 tonnes (1,410,000 lbs.). The largest single piece of airlifted cargo ever recorded was on an Antonov An-225.
The Antonov An-225 will require 3000+m or 9000+ feet of tarmac or runway to take off. To land it will require 3400+m or 11000+ feet of tarmac or runway. And the runway needs to be atleast 200 feet wide.
How much does a Antonov AN 225 cost?
One sample cost for one delivery from Denmark to Kazakhstan was approximately €266,000. The Mriya costs $250 million. There are two AN-25 aircraft in the Antonov fleet.
What is the biggest passenger plane in the world?
The Airbus A380 is a double-deck, wide-body, four-engine jet airliner manufactured by European manufacturer Airbus. It is the world's largest passenger airliner, and the airports at which it operates have upgraded facilities to accommodate it.
Antonov AN-225 Landing video
Our Story related to the Antonov AN-225
We got to get up-close and personal with the world's largest airplane this weekend, in Peoria, IL. We were in our back yard, on the banks of the Illinois River, when we saw this behemoth fly overhead. We had a feeling it was something special, so we jumped in the car and cruised over to the Peoria International Airport, hoping to catch a glimpse of it on the tarmac. We ended up with three different vantage points of it, the first about 500 yards away, behind a chain link fence (that's the picture from the rear), the second about 200 yards away (the pictures with the nose closed), and the third, my pops convinced a state trooper to drive us out onto the runway! We only had about 5 minutes on the runway with it, because they were starting to load it up. Between the second round of pictures and the drive out with the trooper, they opened the nose up, and lowered the whole plane down about 4 feet. As soon as we got out there, they were unfolding the ramp, and the trucks were pulling up. We weren't 100% sure at the time, but the seven trailer-sized generators were obviously being loaded quickly, at no expense spared, for some emergency…we surmised for relief in Sumatra. This was confirmed the next day in the papers. The Antonov AN-225 was built by the Russians in the '80's to transport their space shuttle, and while it has a smaller wingspan than the Spruce Goose (by 29 feet), it's overall length and bulk make it the largest airplane in the world. Oh, and this is the only one ever made!
Best regards, love the site.