Ananthapura Lake Temple is a Hindu temple built in the middle of a lake in the little village of Ananthapura, Kasaragod District of Kerala, South India, at around 6 km from Kumble.
This is the only lake temple in Kerala and is believed to be the original seat (Moolasthanam) of Ananthapadmanabha Swami (Padmanabhaswamy temple) Thiruvananthapuram. Legend has it that this is the original site where Ananthapadmanabha settled down.

This crocodile named Babia – Only Veg Crocodile in the world  is found here in Ananthapadmanabha Temple Lake.

Story Behind Babia Crocodile :
There is an interesting local legend that narrates the entire story behind the guardian crocodile. Once Sree Vilvamangalathu Swami, devotee of Lord Vishnu, was doing penance for his favourite lord. While he was in his prayers, Lord Krishna in the form of a little boy appeared and started disturbing him. Being annoyed by the behaviour of this child, the saint pushed Lord Krishna aside with his left hand. The boy immediately disappeared into a nearby Bilvamangala cave and the truth dawned on the saint. The crevice into which Krishna is said to have disappeared is still there. The crocodile guards the entrance of the Cave and the shrine.

In 1945, when the British soldiers were stationed there, one soldier shot dead the crocodile. To the surprise of everyone the soldier died within few days by a snake-bite. People believe it to be a revenge by the serpent god Anantha. Soon another crocodile appeared in the tank and even now if one is fortunate one can see it. The legend goes that there is only one crocodile in the lake at a time. When one crocodile dies, another one appears in the lake. The devotees pay great respect to this crocodile.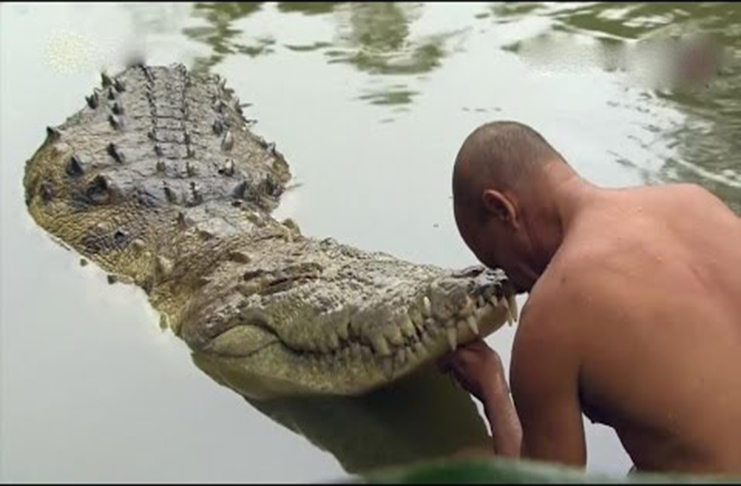 It is also said that the crocodile has been living for the past 150 years as only one crocodile is seen at a time. This is a harmless, pure vegetarian crocodile and does not even kill the fish in the lake.
The priests feed the crocodile after the Ucha Pooja / Noon Pooja with gruel of rice and jaggery. The crocodile comes there at that time, has the food offered and again goes back to the cave which is present close by. There is Lord Krishna temple towards south-west of main temple. The main attraction here is the crocodile present in the lake.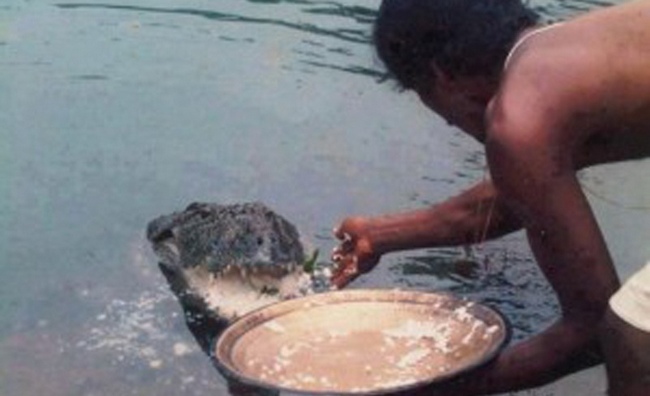 Vegetarian Crocodile Which Only Eat Prasad Which Came From Devotees
Babiya/Babia – The Veg Crocodile
See also:
Curse Behind Mysore King Ended Up having No Children
हिन्दू मान्यताओ के अनुसार अमरत्व प्राप्त है इन ८ चिरंजीवियों को
Life Management Lesson from Samudra Manthan | Story in Hindi
14 amazing Facts You Should Know About Buddhism
15 amazing Facts You Should Know About Tirupati Balaji
If you like this post, Then please, share it in different social media. Help our site to spread out.
[divider scroll_text="Back To Top"]