The term "paramilitary forces" in India has not been defined in any acts or by authorities officially however they are conventionally used to refer to two forces i.e. Assam Rifles and Special Frontier Force.
Central Armed Police Forces were formerly referred as Paramilitary Forces however from March 2011, Ministry of Home Affairs adopted a uniform nomenclature of Central Armed Police Forces for five forces namely: CRPF, BSF, ITBP, CISF, SSB to avoid confusion , this 5 forces are organized on police lines. The CAPFs have their own cadre of officers, but they are headed by officers of the Indian Police Service. They have, for many years, demanded improved promotional prospects.However, the higher echelons in these organisations, including the head of the organization, designated as Director General, is reserved by the MHA for Indian Police Service (IPS) officers .The DGs of those five CAPFs were upgraded by the Manmohan Singh led UPA Government following the 6 CPC the apex scale, a grade held by DGs of various state police.
7 Paramilitery Forces in India including 5 Central Armed Police Forces
1. Assam Rifles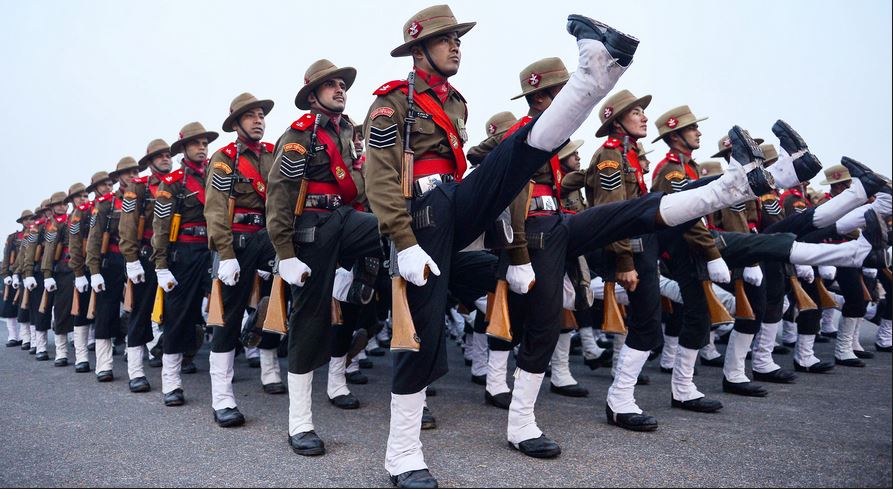 The Assam Rifles is the oldest paramilitary force of India.The unit can trace its lineage back to a paramilitary police force that was formed under the British in 1835 called Cachar Levy. Since then the Assam Rifles have undergone a number of name changes – the Assam Frontier Police (1883), the Assam Military Police (1891) and Eastern Bengal and Assam Military Police (1913), before finally becoming the Assam Rifles in 1917. Over the course of its history, the Assam Rifles and its predecessor units have served in a number of roles, conflicts and theatres including World War I where they served in Europe and the Middle East, and World War II where they served mainly in Burma. In the post World War II period the Assam Rifles has expanded greatly as has its role. There are currently 46 battalions of Assam Rifles with a sanctioned strength of 66,411 personnel. It is under the control of the Indian Ministry of Home Affairs (MHA) and they perform many roles including the provision of internal security under the control of the army through the conduct of counter insurgency and border security operations, provision of aid to the civil power in times of emergency, and the provision of communications, medical assistance and education in remote areas. In times of war they can also be used as a combat force to secure rear areas if needed. Since 2002 it has been guarding the Indo–Myanmar barrier as per the government policy "one border one force".
2. Special Frontier Force (SFF)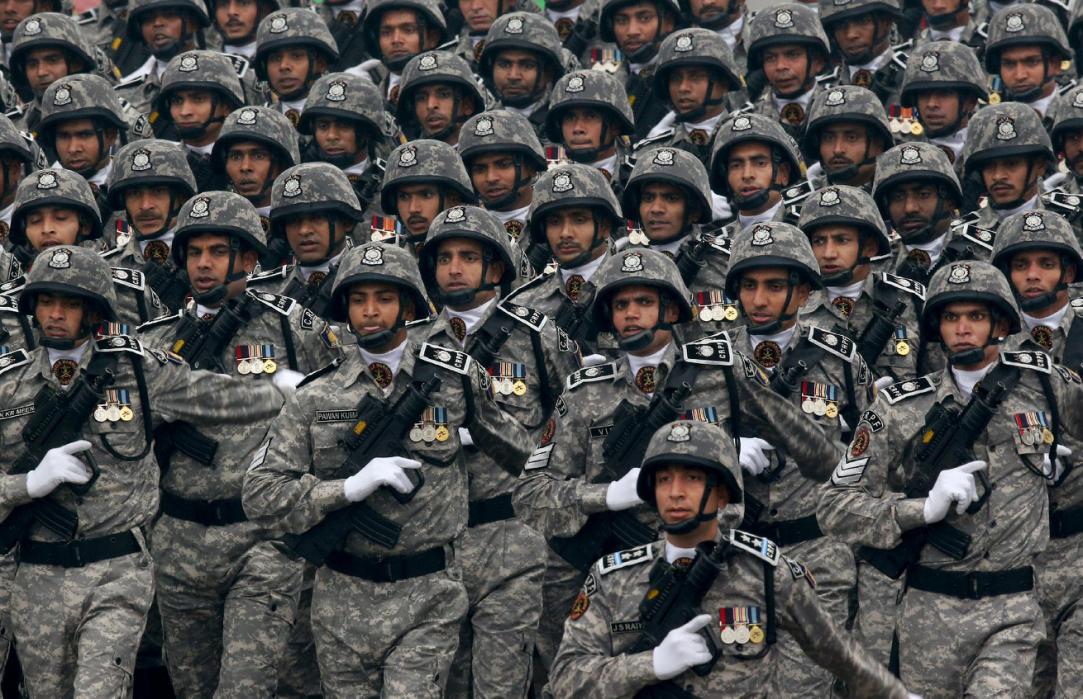 The Special Frontier Force (SFF) is a paramilitary special force of India created on 14 November 1962. Its main goal originally was to conduct covert operations behind Chinese lines in the event of another Sino-Indian War.
The SFF came to be known as 'Establishment 22' due to its first Inspector General, Major General Sujan Singh Uban (Retd.) of Indian Army, who used to be commander of 22 Mountain Regiment during World War II, a Military Cross holder and a legendary figure in the British India Army. Singh commanded the 22nd Mountain Regiment during World War II in Europe and a Long Range Desert Squadron (LRDS) in North Africa.
Based in Chakrata, Uttarakhand, the force was put under the direct supervision of the Intelligence Bureau, and later, the Research and Analysis Wing, India's external intelligence agency.
3. Border Security Force (BSF)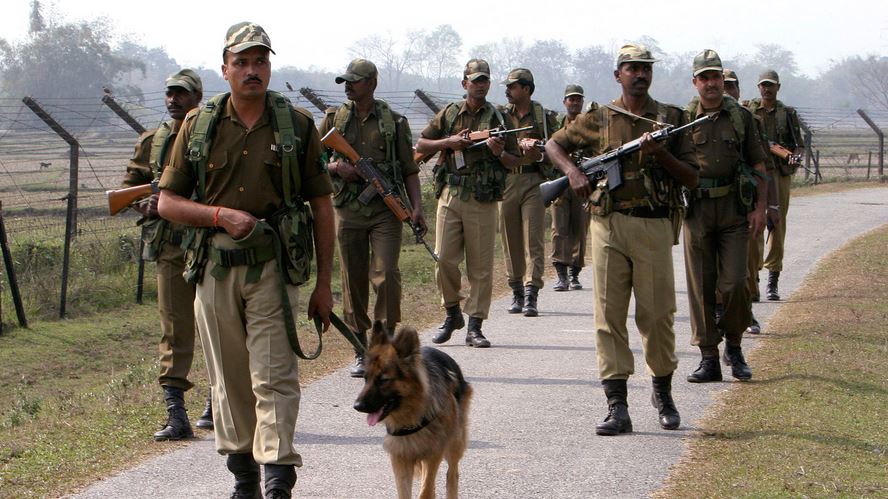 The Border Security Force (BSF)  is the primary Border guarding force of India. It is one of the five Central Armed Police Forces of the Union of India, it was raised in the wake of the 1965 War on 1 December 1965, "for ensuring the security of the borders of India and for matters connected there with". It is a Central Armed Police Force charged with guarding India's land border during peacetime and preventing transnational crime. It is a Union Government Agency under the administrative control of Ministry of Home Affairs. The BSF has its own cadre of officers but its head, designated as a Director-General (DG), since its raising has been an officer from the Indian Police Service. It is an Armed Force of the Union of India tasked with various assignments from time to time. The BSF has grown exponentially from a few battalions in 1965, to 186 battalions with a sanctioned strength of 2.5 lakh personnel including an expanding air wing, marine wing, artillery regiments, and commando units. It currently stands as the world's largest border guarding force. BSF has been termed as the First Line of Defence of Indian Territories.
4. Central Reserve Police Force (CRPF)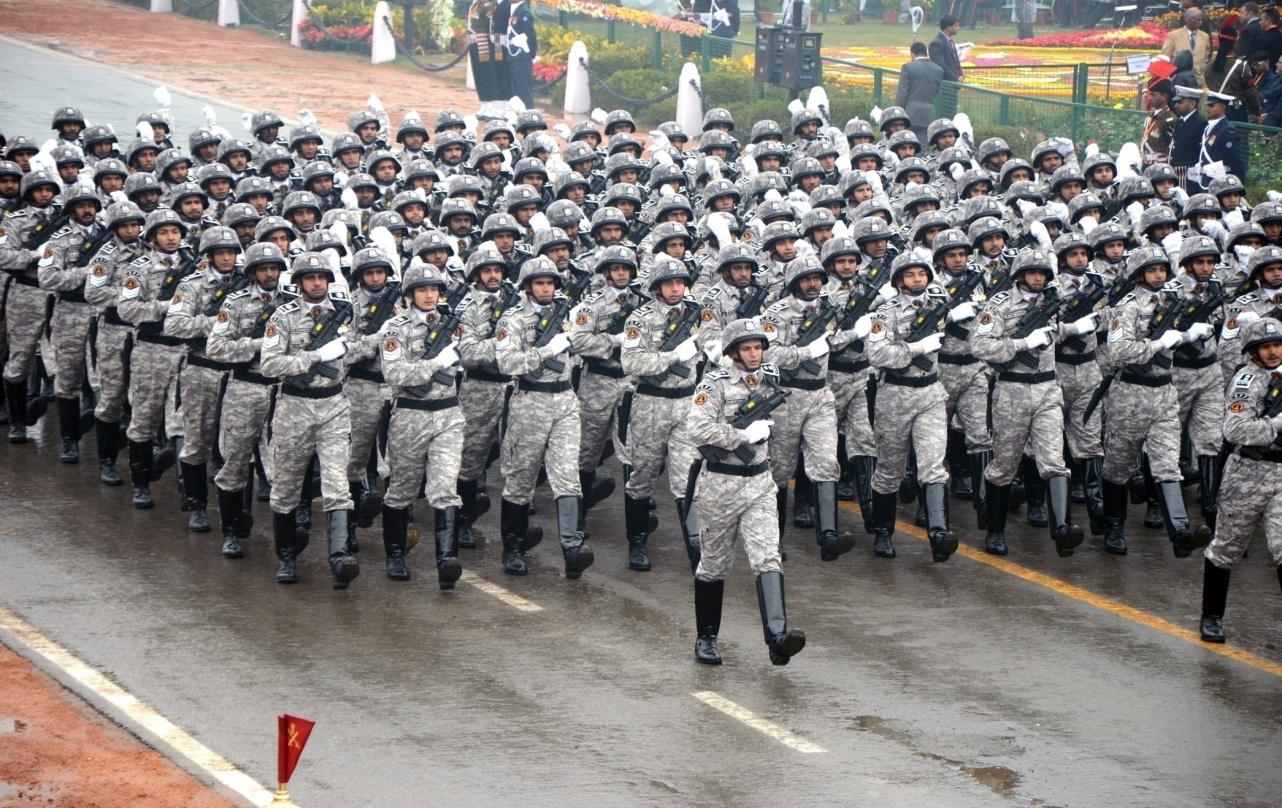 The Central Reserve Police Force is the largest of India's Central Armed Police Forces. It functions under the aegis of Ministry of Home Affairs (MHA) of the Government of India. The CRPF's primary role lies in assisting the State/Union Territories in police operations to maintain law and order and counter insurgency. It came into existence as the Crown Representative's Police on 27 July 1939. After Indian Independence, it became the Central Reserve Police Force on enactment of the CRPF Act on 28 December 1949.
Besides Law and Order and counter-insurgency duties, the role of CRPF in the General Elections, held repeatedly during the past few years, has been very significant and vital. This is especially true for the trouble-ridden states of Jammu and Kashmir, Bihar and in the North East. During the Parliamentary elections of September 1999, the CRPF played a major role in the security arrangements. Of late, CRPF contingents are also being deployed in UN missions.
With 235 battalions and various other establishments, the CRPF is considered India's largest paramilitary force and has a sanctioned strength of 308,862 personnel
5. The Central Industrial Security Force (C.I.S.F)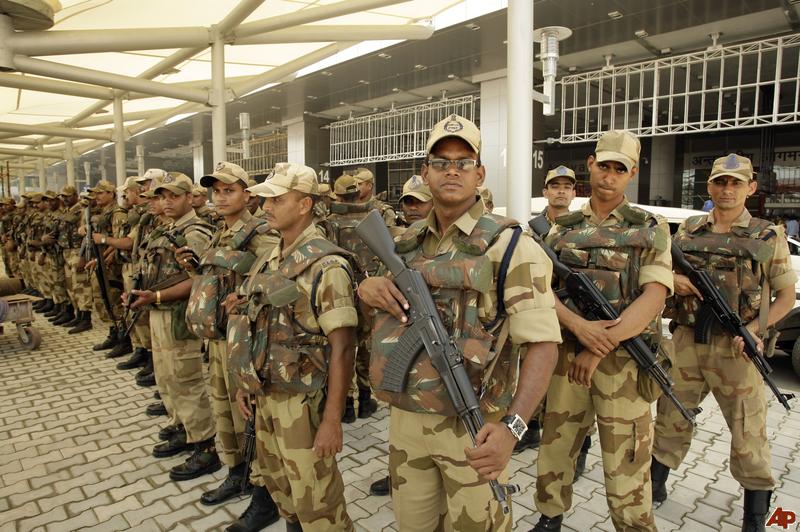 CISF (established in its present form: 15 June 1983) is a Central Armed Police Force in India.
It was set up under an Act of the Parliament of India on 10 March 1969 with a strength of 2,800. CISF was subsequently made an armed force of the Republic of India by another Act of Parliament passed on 15 June 1983. Its current sanctioned strength is 142,526 personnel.
It is directly under the Union Ministry of Home Affairs and its headquarters are at New Delhi.
The CISF provides security cover to 300 industrial units and other establishments located all over India. Industrial sectors like atomic power plants, space installations, mints, oil fields and refineries, major ports, heavy engineering, steel plants, barrages, fertilliser units, airports and hydroelectric/thermal power plants owned and controlled by Central Public Sector Undertakings (PSUs), and currency note presses producing Indian currency are protected by CISF. It thereby covers installations all over India straddling a variety of terrain and climatic conditions. CISF also provides consultancy services to private industries as well as other organisations within the Indian government. The consulting wing has amongst its clients some of the renowned business houses and organisations of India including TISCO, Jamshedpur; SEBI Hqrs. Mumbai; Vidhana Sabha, Bangalore; Orissa Mining Co., Bhubaneswar; Telangana Assembly, Hyderabad; Bangalore Metropolitan Transport Corp.; HIL Kerala;IB Thermal plant,Odisa; IARI, Delhi; NBRI, Lucknow and Electronics City, Bangalore. The scope of CISF's consulting practice includes security consulting and fire protection consulting.
CISF is just a unique organisation in paramilitary forces for India, which works for sea ways, airways and some of the major installations in India. In CISF there are some reserved battalions which works with the state police to protect law and orders. CISF plays a major role in Disaster Management, for Disaster Management course the personnel are trained from NISA, Hyderabad. Another unique thing which the CISF has is a Fire Wing which helps during fire accidents in Industries where CISF is on guard.
6. The Indo-Tibetan Border Police (ITBP)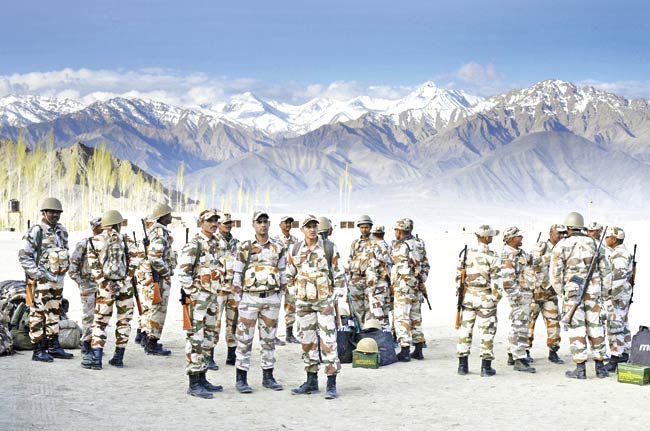 ITBP is one of the five Central Armed Police Forces of India, raised on 24 October 1962, under the CRPF Act, in the wake of the Sino-Indian War of 1962. The ITBP was intended for deployment along India's border with China's Tibet Autonomous Region.
In September, 1996, the Parliament of India enacted the "Indo-Tibetan Border Police Force Act, 1992" to "provide for the constitution and regulation" of the ITBP "for ensuring the security of the borders of India and for matters connected therewith". The first head of the ITBP, designated Inspector General, was Balbir Singh, a police officer previously belonging to the Intelligence Bureau. The ITBP, which started with 4 battalions, has since restructuring in 1978 has undergone expansion to a force of 54 battalions as of 2016 with a sanctioned strength of 89,430.
The ITBP is trained in Civil Medical Camp, disaster management, and nuclear, biological and chemical disasters. ITBP personnel have been deployed abroad in UN peacekeeping missions in Bosnia and Herzegovina, Kosovo, Sierra Leone, Haiti, Western Sahara, Sudan, Afghanistan and elsewhere. Two battalions of ITBP are deputed to National Disaster Response Force.
7. Sashastra Seema Bal (SSB)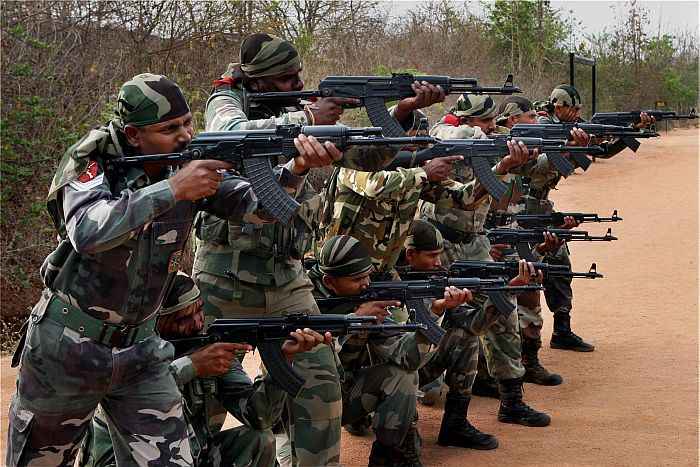 Sashastra Seema Bal or SSB, in English the Armed Border Force (rarely translated into English in Indian usage), is one of India's Central Armed Police Forces. It is currently under the administrative control of the Ministry of Home Affairs (MHA), Government of India. Prior to 2001, the force was known as the Special Service Bureau (SSB)
The previous role of the Special Service Bureau was to motivate and mobilise India's border population for national security during times of peace as well as war and to promote a sense of security and brotherhood among the population, in furtherance of national integration. Its present-day role consists of preventing cross-border crime and smuggling as well as other anti-national activities.
In pursuit of achieving this mandated task, the SSB has been conferred with certain powers under the Criminal Procedure Code of 1973, the Arms Act of 1959, the NDPS Act of 1985 and the Passport Act of 1967. The Government of India also contemplates conferring additional powers under the Customs Act of 1962.
These powers are to be exercised within a belt of 15 km in the states of Uttarakhand, Uttar Pradesh, Bihar, West Bengal, Sikkim, Assam and Arunachal Pradesh, running along the Indo-Nepal and Indo-Bhutan borders, as well as in any other area of SSB operation.
Understanding India's Paramilitary Forces (Central Armed Police Forces)
BSF: India's First Line of Defense Documentary By National Geographic Part – 1
Special Frontier Force of India | EXCLUSIVE old Documentary
See also:
16 Facts Of World's Highest Deadliest Battlefield Siachen Glacier India
10 Amazing Stories of Incredibly Brave Indian Soldiers | Part-2
10 Amazing Stories of Incredibly Brave Indian Army Soldiers | Part-1
Top 20 Best Quotes From Indian Army Soldiers | Awesome Inspirational Saying
Mind-blowing War Tricks: 1965 India Pakistan war -Destroying tanks with Water
A year by year map history of India from the 4th century BC to date
6 Breathtaking Facts About Indian Railway System
A million, billion, zillion salutes to our soldiers! We remain indebted, forever.
NOTE: Specific details of this information has been sourced from multiple places including Wikipedia.