If you are a fashion buff, you may have questioned sometime, what is it about celebrities that makes them stand out so much from ordinary folks? One of the reason is confidence. But something we need to understand is that celebrities are not perfect. Therefore, you do not need to have the perfect body or anything; you need to be yourself and heighten your best features.
Do you want to look like a celebrity or Instagram Fashion influencer? If yes then it's all about making smart fashion choices. You should be able to look like a million bucks without your clothes having cost quite that much.
That's why, here are the 7 style tips to dress like a celebrity on a budget. They will help you look stunning without breaking your bank account. So, what are we waiting for? Let's get started!
Get to know your personal style and buy wardrobe essentials accordingly
You may have thought to copy your favorite fashion icon's style at first, but we know it's not possible. At least not entirely possible. So first, find what your personal style is. Determine if your style is casual chic, sexy, vintage or sophisticated then you can choose and look upto celebrities who carry those styles for getting inspiration. You also need to purchase your wardrobe essentials based on your style type because without the proper staples, your wardrobe is incomplete.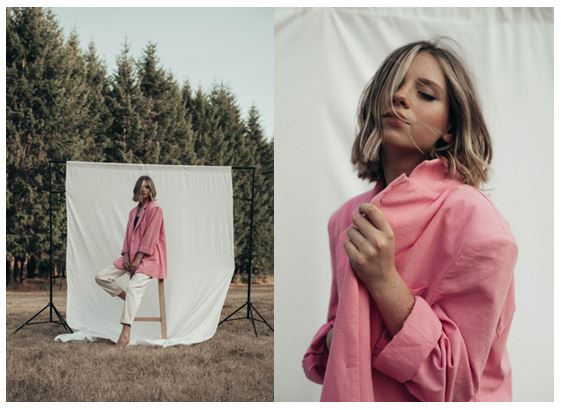 Practice Minimalism
Celebrities are often minimalist in their fashion choices. And that is because clean and simple styles are always in trend and you can't go wrong with them. And not just clothes, minimalism practiced in accessorising, layering and also makeup creates a more elegant and sophisticated look. Practice minimalism everywhere you can because simple will always be in style. You want to make sure you're buying high-quality t-shirts, jeans, skirts, blazer, etc. whatever you need in your wardrobe, at a minimal price.
Fit it right
You won't find any celebrity wearing non-fitting clothes intentionally. The clothes they wear consistently fit their body frame. Their clothes are tailored to fit them perfectly, so it does not look ill-fitted. However, not everyone can afford to design every outfit they own to reach their perfect size. So what we can do is avoid all clothes which don't fit us well. Thus, instead of concentrating on the colour and print of the cloth, we need to focus on whether or not the cloth fits you.
Hair and Makeup are essential
Even if your clothes are extremely beautiful and perfect, most of the attention of the crowd will go to your messy hair and unkept makeup. These are your most noticeable attributes. Celebrities are no exception to this. No matter how beautiful your clothes are, your makeup and hair must always match your outfit. Hence, make sure that when you dress up, your makeup as well as hair are on point and perfect.
Act like a celebrity
Celebrities behave in a certain manner. They look the way they do because they hold themselves with extreme grace and confidence in public and in private as well. To look like a celebrity and follow a celebrity life-style, you need to behave as one too. This includes walking with confidence and grace, learning to pose and carrying your composure. Developing these habits go a long way in looking like a celebrity. This means you need to be conscious about your behavior everywhere as celebs are always being followed by watchful eyes.
Be A Smart Shopper
Celebrities are the major fashion influencers because they wear the best of the best. We may not be able to afford those costly pieces, but you can make sure to pick up a few items during the sale season to wear on special occasions, shop from thrift stores, sign up for newsletters by individual brands to know of off-season sales, etc. For e.g. there are always great sales and clearances at outlet stores of major brands such as Nordstrom Rack, J Crew Factory, Saks Off Fifth, etc. which sell quality items at an extremely affordable price for everyone.
You have to be thrifty and smart as a shopper in order to dress up like a celebrity. There's also wholesale liquidation stores to buy clothes from. You can buy anything in bulk from wholesale liquidation stores and hence get a good deal of discount. Many of the big ones deal in overstock or returned apparels and accessories, hence giving you a great chance of scoring lots of brand clothing at less than half a price.
Grooming is important
Another factor that every celebrity follows is being well groomed. Since celebrities are well groomed all the time, you too need to be. This includes your personal hygiene and skincare routine. One of the basics of personal hygiene is to always have your hair, nails, eyebrows, and toes clean. A part of the routine includes searching for and buying perfume or deodorant that matches your body odour. This is because everyone has a different scent, and no two people can use the same deodorant or perfume. Your skin care routine should be well set as well and should work the best for you. In case you wear makeup, you need to figure out which skincare routine is best for your skin and lifestyle.
Conclusion
We hope these tips are helpful to you. Only remember that you do not have to be rich or have money to look good. Just purchase the right high-quality clothing pieces at the best prices. Look out for sales and clearances, buy from wholesale liquidation stores, etc.
And these are just some tips and tricks. You probably have your own fashion hacks. So, what are your personal hacks and how do you incorporate those to look like a celebrity? Let us know your secret fashion hacks in the comments below.
Suggested Read
Hair Combs: How Often You Should Use It & Why
Top 10 Cutest Dutch Braid Hairstyles For Girls
16 Craziest Hairstyles Weird Haircuts Will Make You Laugh
This 5 Year Old Girl Is Driving The World Crazy With Her Gorgeous Natural Long Hair