One Hundred Scenes Of Kobe – Part 1
In the 1950s, woodblock print artist Hide Kawanishi produced a series of color illustrations that depicted the changing city of Kobe after WWII. In 1962 he published the artwork in a book titled One Hundred Scenes of Kobe (神戸百景色). It would become the artist's last major accomplishment before passing away in 1965.
Some 60 years later, Takayuki Kita, enchanted by the work of Kawanishi, spent 2 years hunting down each and every location. "I was driven by the magic of Hide Kawanishi in his enthusiasm of grasping the deep spirit and fantasy of Kobe out of the unique architecture scattered in the city," says the traveler, who arranged his contemporary photographs alongside the artwork.
The illustrations themselves are beautiful and obviously can stand on their own. But it's also a fascinating and surreal exercise to compare the two scenes. All 100 illustrations, along with their contemporary photographs (and google map location), are available on the official Kobe City website. And used copies of the original book are also floating around the internet if you're interested.
THE PORT OF KOBE
Kobe has a one-thousand year history as a trading port between Japan and the Asian Continent.
Since Kobe was officially opened as an international port on January 1, 1868, it has played an important role in the development of Japan.
ENTERING KOBE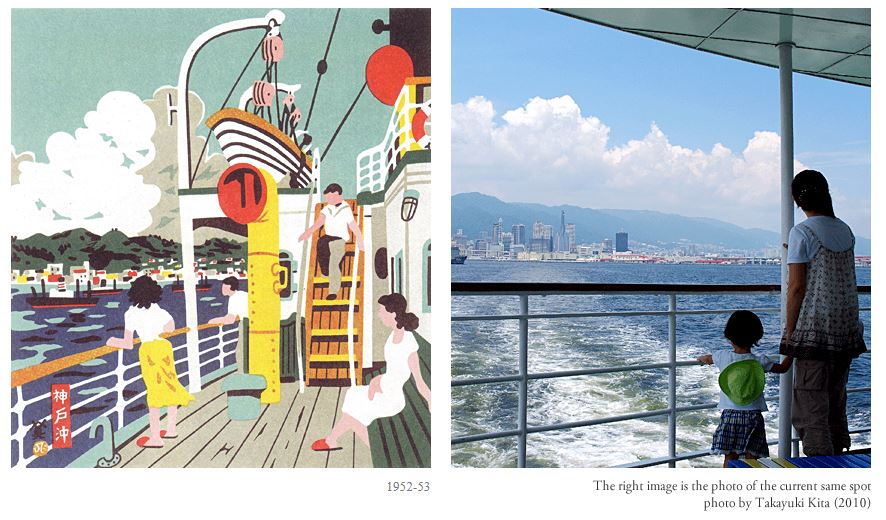 Merchant ships from over 30 countries stop at this scenic port. Kobe handles 37% of Japan's total exports and 20% of its imports.
TOURISTS ON THE PIER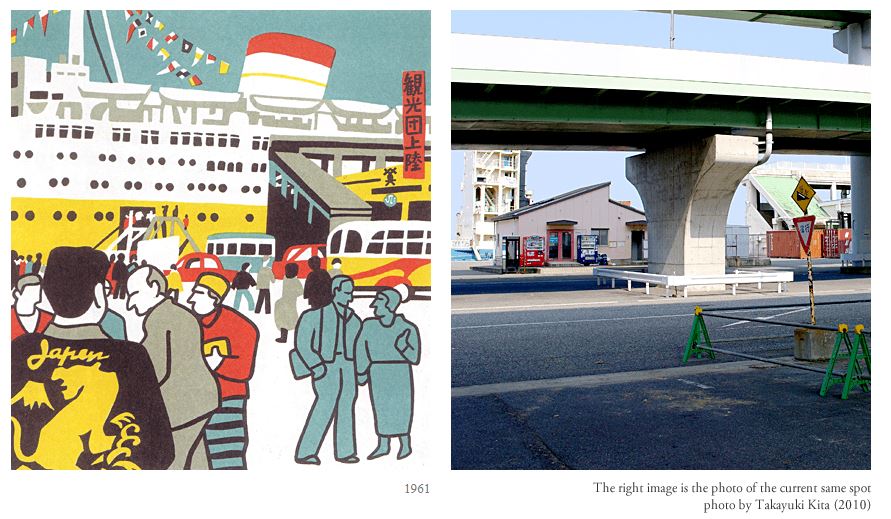 The number of tourists who visit Kobe increases each year. When an ocean liner docks in Kobe, the visitors tour not only Kobe but the famous ancient cities of Kyoto and Nara as well.
MOTO-MACHI STREET AT YEAR-END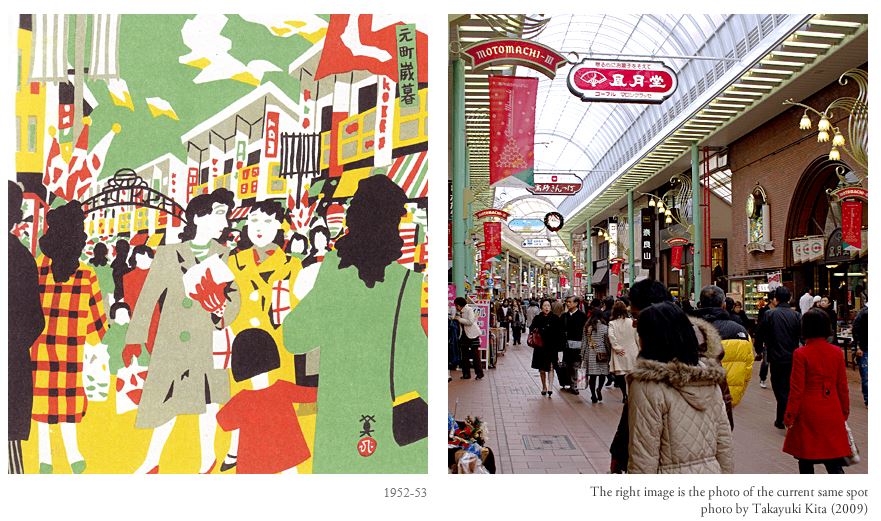 This shopping center in Kobe covers six blocks of streets from the Daimaru Department Store to the Mitsukoshi Department Store. Moto-machi at year-end is crowded with people shopping in preparation for the New Year.
NEON LIGHTS OF MOTO-MACHI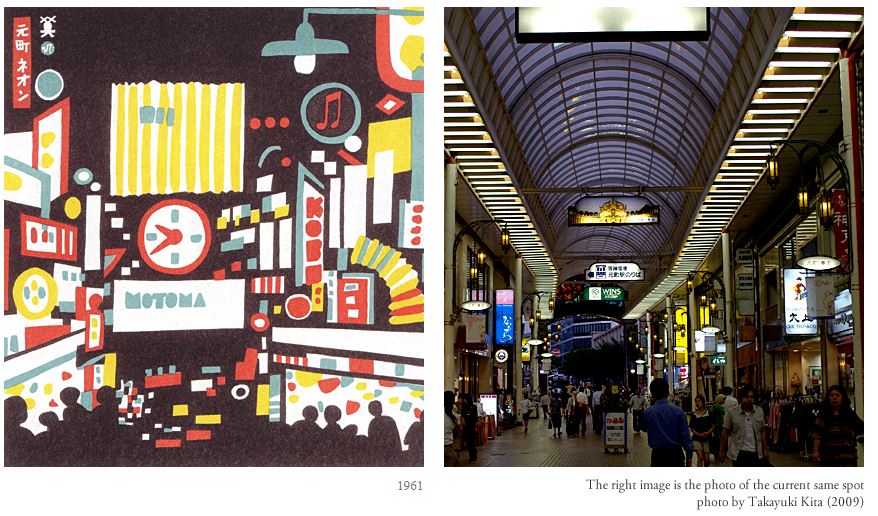 When darkness comes to Kobe, the spectacular neon lights and a large clock light up the entrance of Moto-machi with their colorful illumination.
NUNOBIKI RESERVOIR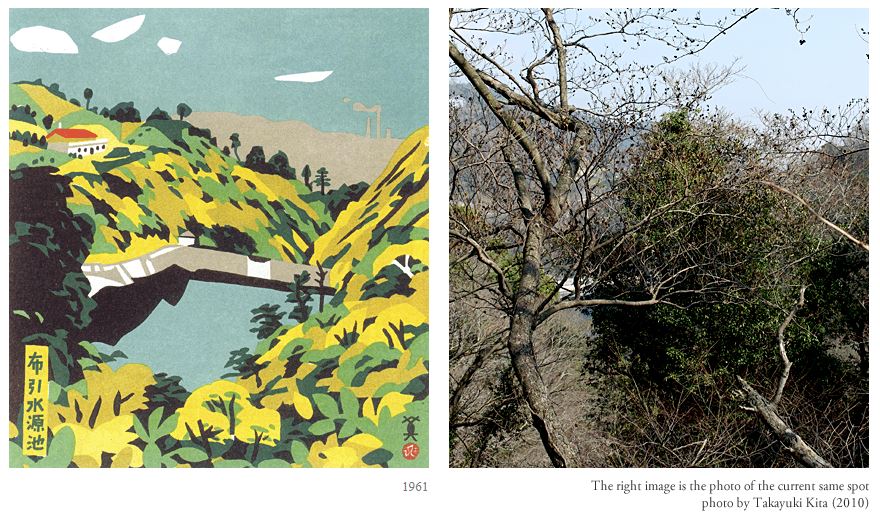 Kobe's first water reservoir, the Nunobiki reservoir was completed in March 1900, and has a total capacity of 771,000 tons. It is from this reservoir that "Kobe Water" is supplied to all incoming foreign ships.
SHIOGAHARA PARK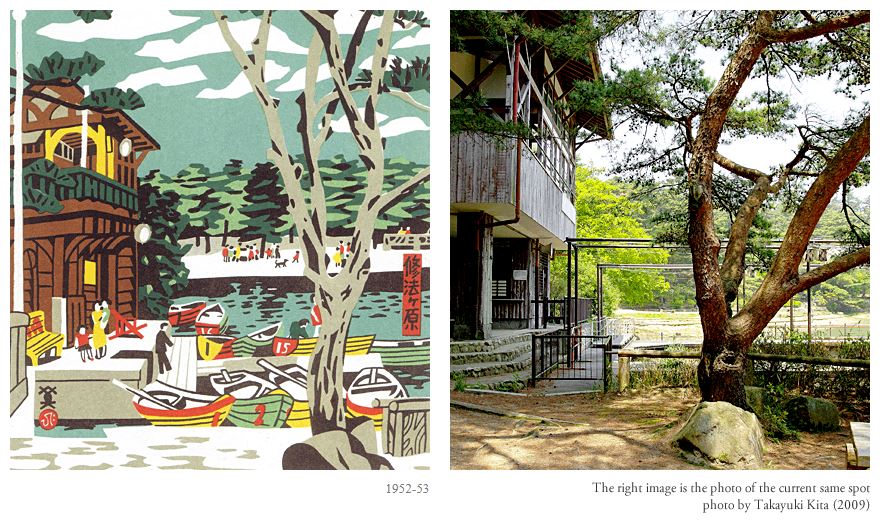 Fifteen minutes drive from the heart of the city lies this quiet park located 480 meters above the sea. Near the park is a natural botanical garden and the "Foreign Cemetery".
FOREIGN CEMETERY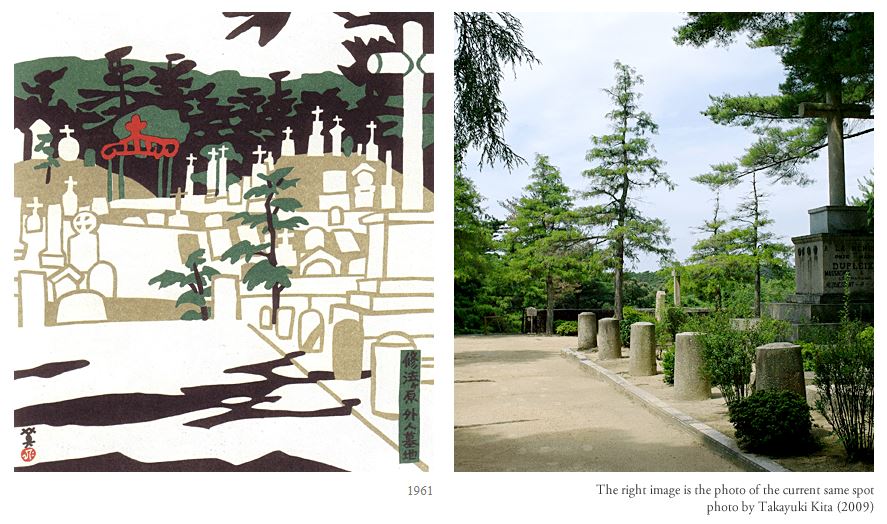 The foreign cemetery covers an area of 139,000 sq. meters. It has its own chapel and offers an eternal resting place for about 2,130 foreigners of 44 different nationalities.
CHILDREN'S BOTANICAL GARDEN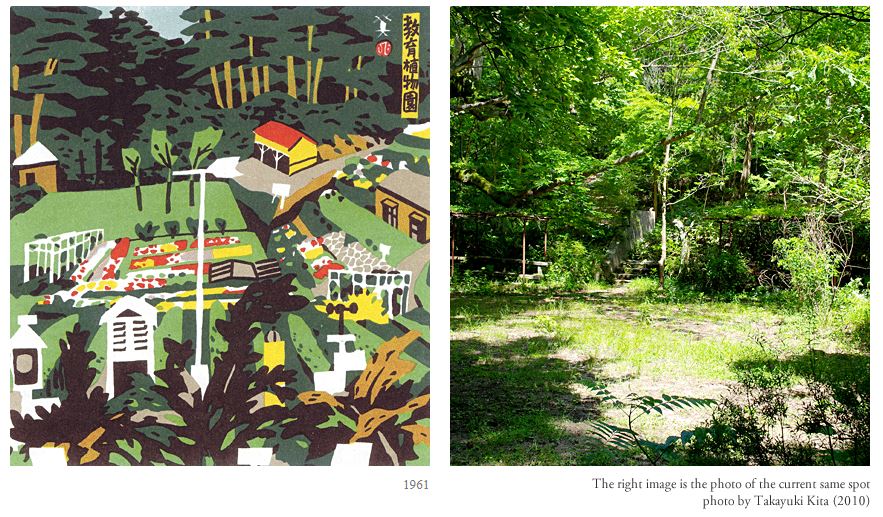 Next to the Municipal Garden, another Botanical Garden, specially designed for educating children, is located. The Garden features 400 different trees, 600 kinds of plants and over 30 varieties of small birds.
BOTANICAL GARDEN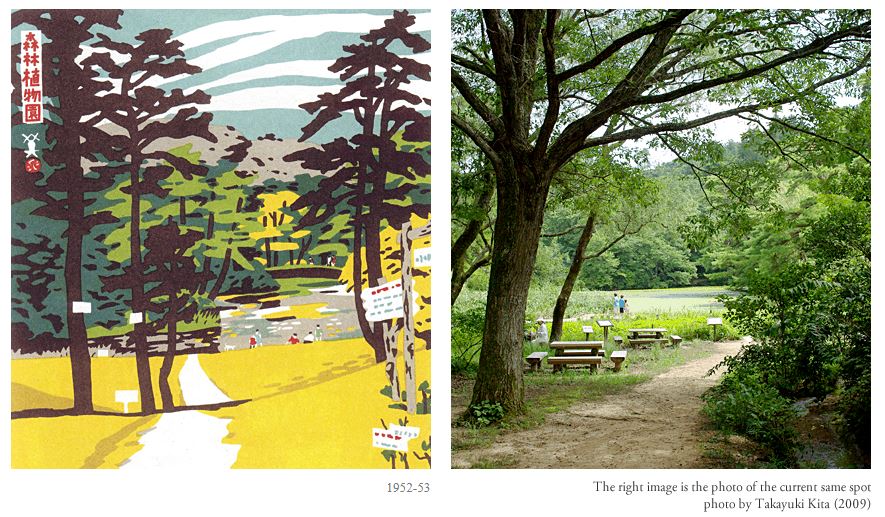 The Municipal Botanical Garden, located on the slope of Mt. Futatabi, is approximately one million square meters in area. The Botanical Garden, one of the most popular picnic areas in Kobe, has 1300 different varieties of plants and trees.
ROKKO DAIRY FARM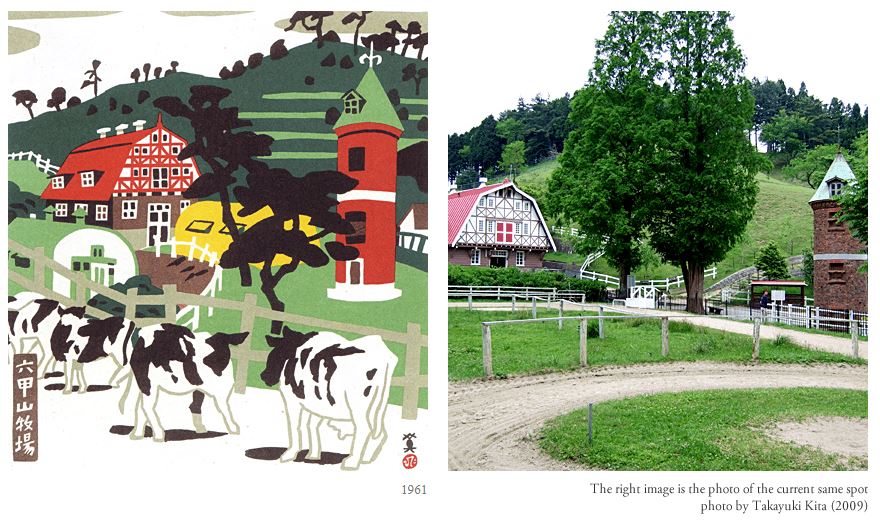 When Mt. Rokko became a national park in 1956, the city established a dairy farm on the gradual slopes of Rokko, primarily for tourists to see its facilities and enjoy fresh milk.
OKU MAYA (UPPER MT. MAYA)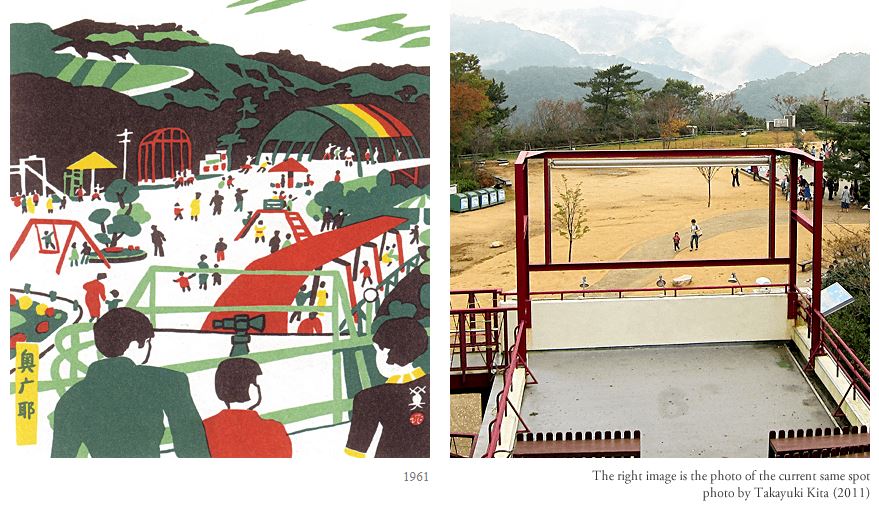 The summit of Mt. Maya can easily be reached by cable car or ropeway. All kinds of recreational facilities are available for both children and adults.
TENJOJI TEMPLE
Tenjoji Temple built on Mt. Maya, 700 meters above sea level and surrounded by a natural forest, is said to have been established by Kobo Daishi (774-835) after his return from China.
MT. ROKKO CABLE CAR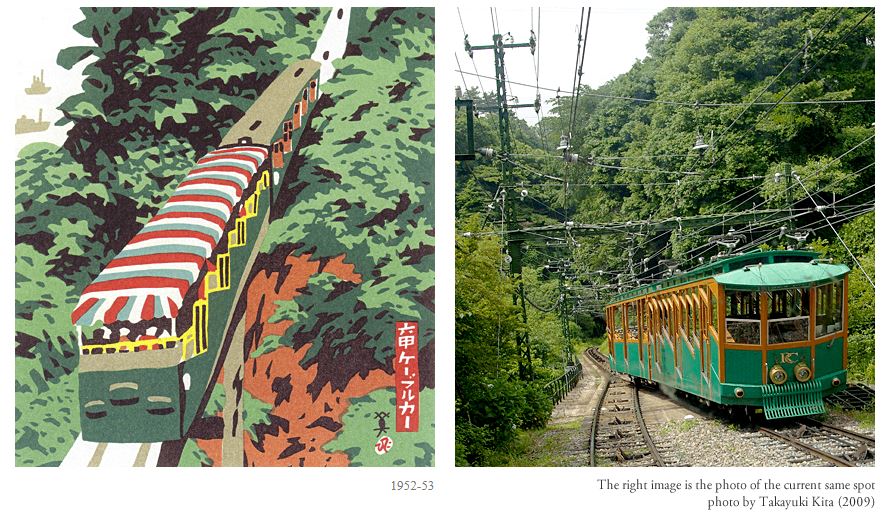 The summit of Mt. Rokko, 936 meters high, is a famous tourist attraction in Kobe. A cable car covers the distance of 1.8 kilometers to the top in less than 10 minutes.
MT. ROKKO AT NIGHT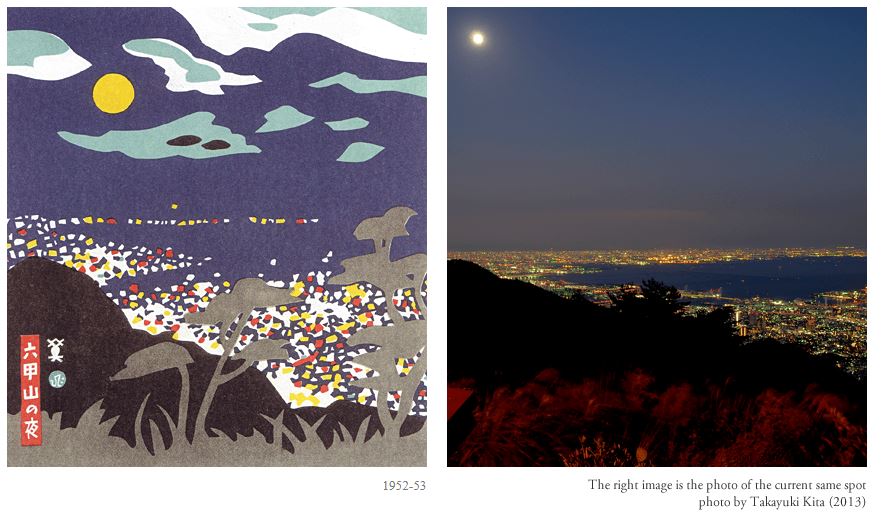 Mt. Rokko is only 900 meters high, but the view from its top is magnificent. "A million dollar view" from Rokko at night embraces Kobe and its neighboring cities, sparkling with lights and their reflection on the sea.
ROKKO-SAN GOLF COURSE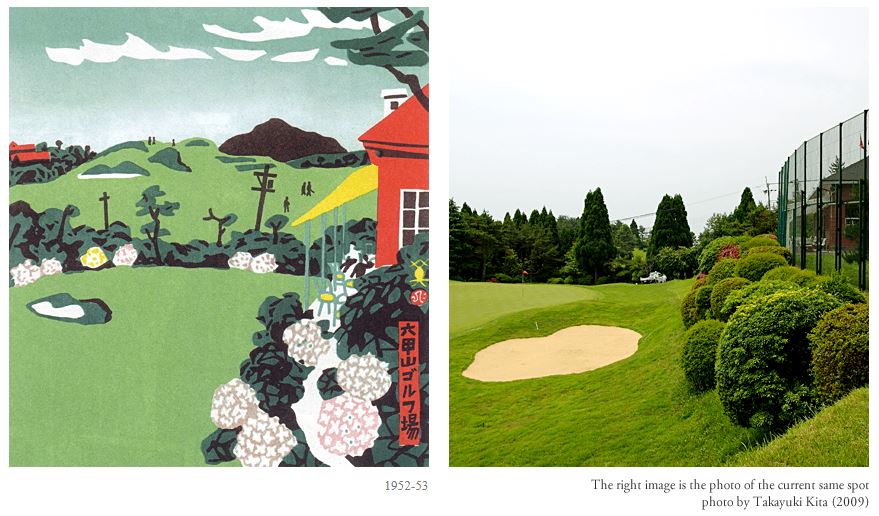 Located 900 meters above sea level, the Mt. Rokko golf course is the oldest in Japan. It has 18 holes covering an area of 330,000 square meters.
ROKKO DRIVEWAY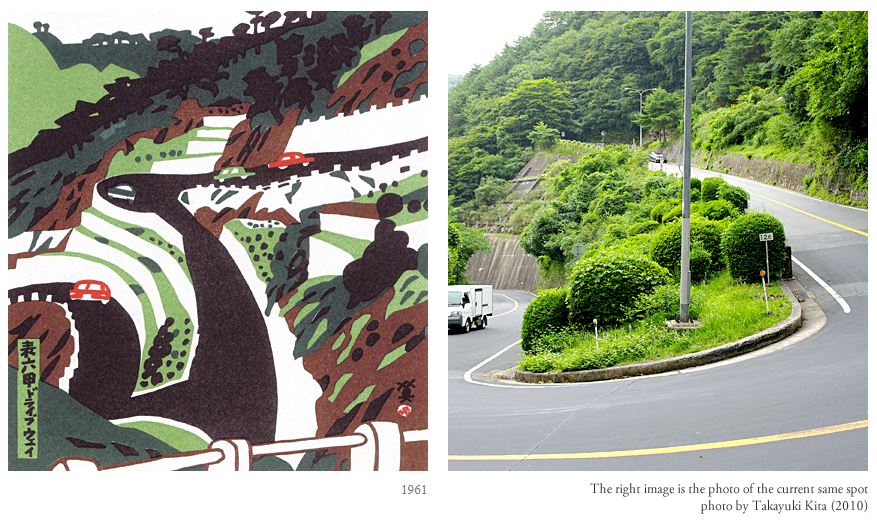 By driving up the winding Rokko driveway enjoying the distant views of the Osaka Bay, you can reach the summit of Rokko in 30 minutes. It is a toll road about 5 kilometers in length.
KAMOKOGAHARA HOUSING AREA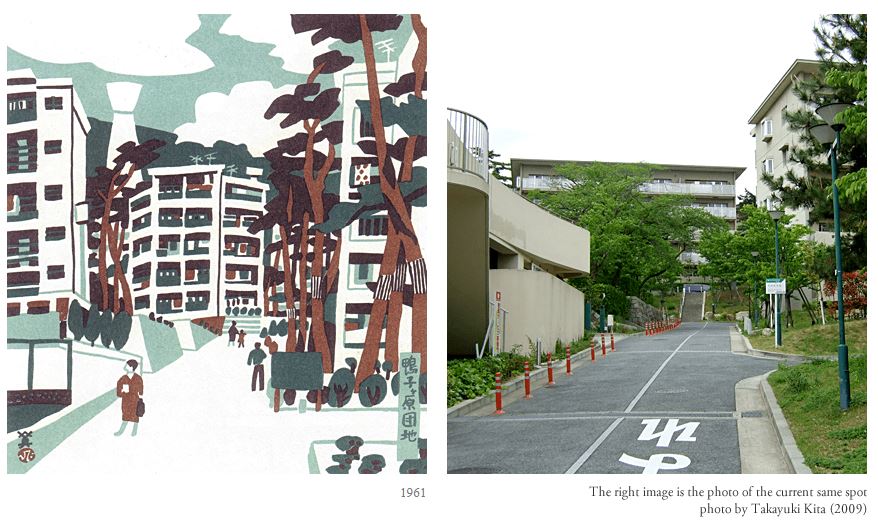 About 38 acres of land have been developed into a housing area at the foot of Mt. Rokko. Steel reinforced concrete apartment houses surrounded by natural green trees and shrubs, overlooking the sea is typical of the type of residential areas found in Kobe.
HAKUTSURU ART MUSEUM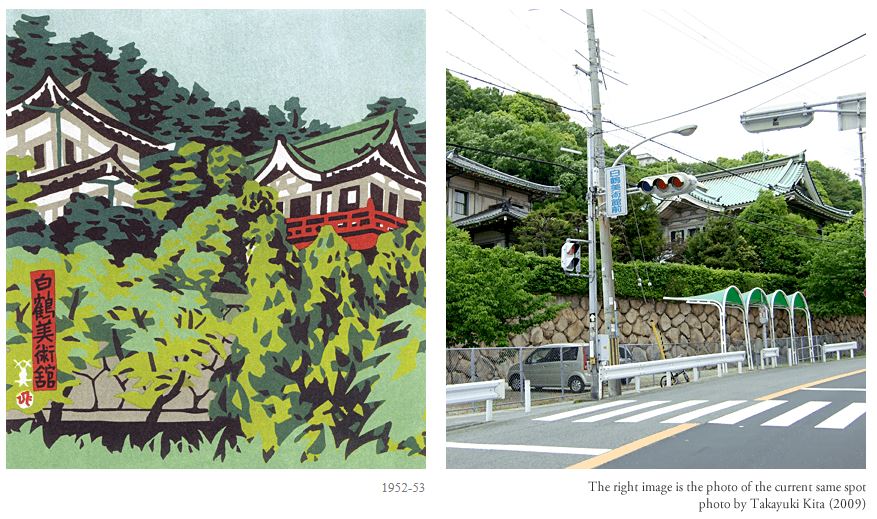 This museum, a replica of 16th century architecture, was established by Kano, the famous "Sake" brewer, and is known for its collection of Chinese bronze and ceramics.
NADA'S "SAKE" BREWERY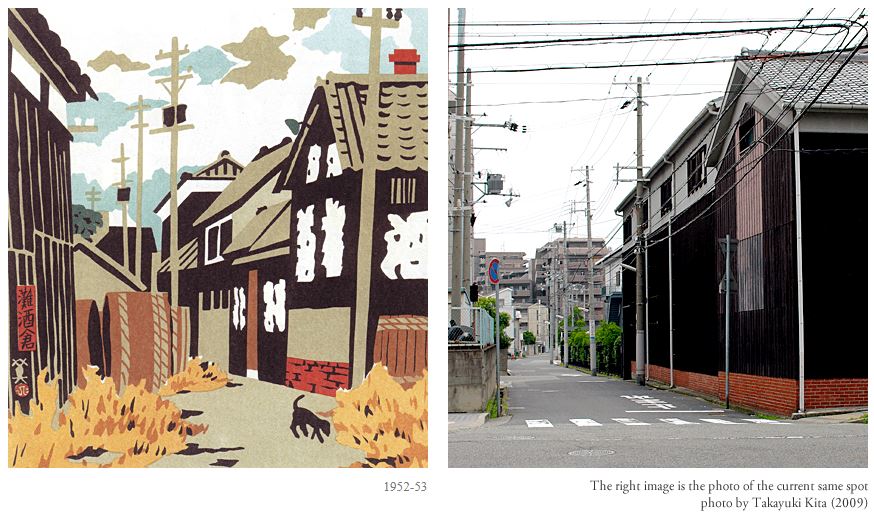 The Nada area, famous for its tasty "Sake"(Japanese wine), has 40 breweries which produce 12 million gallons annually.
MERCHANT MARINE COLLEGE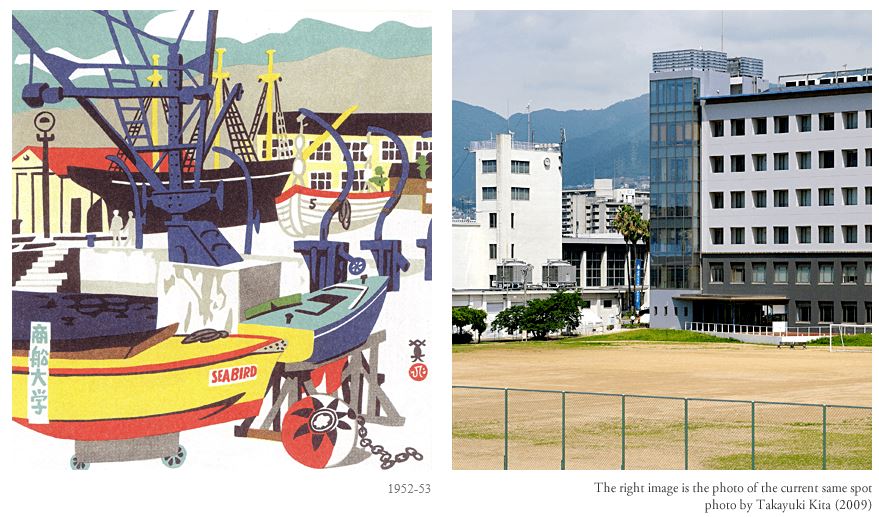 Opened in 1920 to train officers for Japanese merchant vessels, the college curriculum includes a training cruise every spring in the snowwhite schooner.
NADA INDUSTRIAL AREA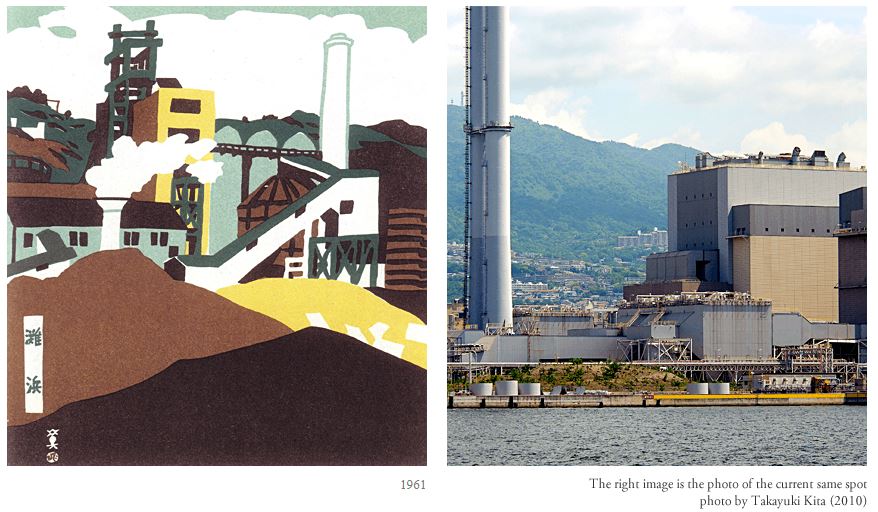 Because of the limited amount of land available for industry, a large scale land reclamation project has been initiated. This is a steel furnace built on reclaimed land in 1959.
FUKIAI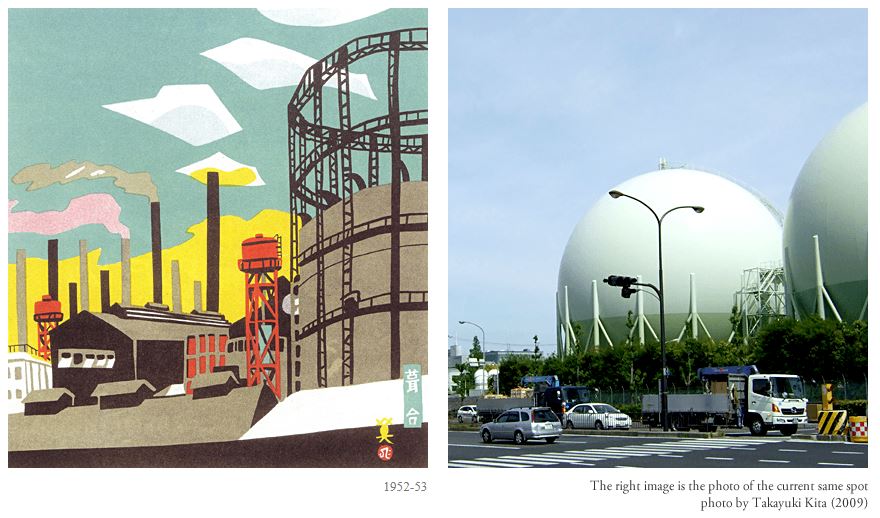 The Fukiai area is Kobe's industrial center. The tall chimneys of the Kobe Steel and Kawasaki Steel Works and the large gas tank are signs of the growing industrial activities in this area.
CANADIAN ACADEMY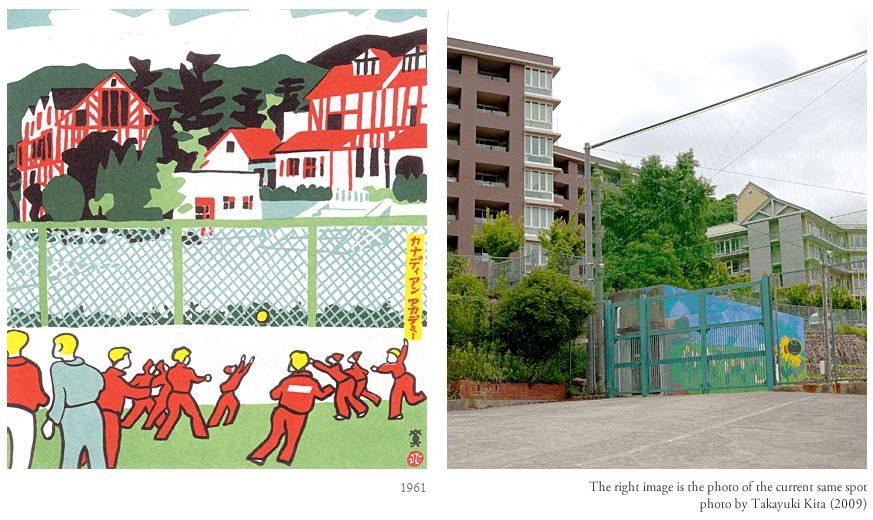 The Canadian Academy modeled after the school system of Ontario, Canada, was established by the Canadian Methodist Mission in 1903 to provide education for children of foreign families in this area. At present it offers a 12 grade curriculum to 300 pupils of more than twenty nationalities.
OHJI ZOO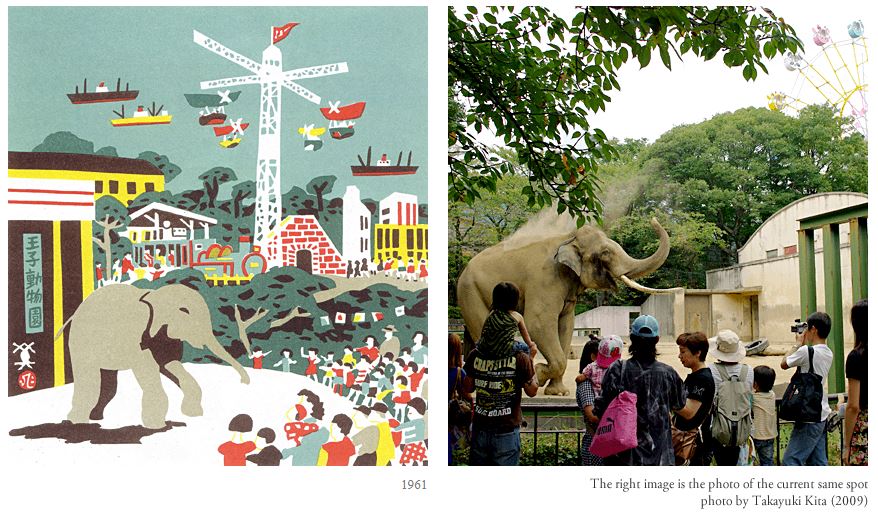 In addition to a wide variety of animals, the Zoo, opened in 1951, is famous for its beautiful cherry blossoms. The Zoo is open at night during the blossom-viewing season.
About Hide Kawanishi
Hide Kawanishi (1894 – 1965), a renowned woodblock print artist from Kobe, produced series of work titled "One Hundred Scenes of Kobe (Kobe Hyakkei)" twice in his lifetime. The first time between 1933 – 1936 he depicted the bustling cityscapes and lives of prewar days of Kobe. The second time, he produced poster color drawings of the changing city after the World War in the number of another one hundred in 1952 – 1953. Having revised or re-drawn one third of the latter, he published the "Collection of Artwork – One Hundred Scenes of Kobe (Kobe Hyakkei)" in 1962.
In his collection book published in 1965, Kawanishi wrote "I have never had a teacher of painting. I am absolutely self-educated and have painted what are not paintings. Having walked and found my own path, I am just what you may call a dilettante. I may complain about losing my youth, but there are things that I shall never lose such as innocent mind and thrills, creativity, originality, and a fresh sense of popularity and clarity. To become plain is the last thing I want to be." This "One Hundred Scenes of Kobe (Kobe Hyakkei)" is, I believe, a straightforward representation of his words.
Enchanted by Kawanishi's One Hundred Scenes of Kobe, we haunted around the city for two years visiting the locations of those scenes one by one. we must say that we were driven by the magic of Hide Kawanishi in his enthusiasm of grasping the deep spirit and fantasy of Kobe out of the unique architecture scattered in the city.