A comprehensive survey of the 28 EU member states revealed that an EU-high 91 percent of Swedes believe immigrants contribute significantly to society, and 97 percent are satisfied with their lives.



After Swedes ranked first in the EU for their approach to immigrants, The Local chats to Integration Minister Erik Ullenhag about how the face of immigration has changed, and how Sweden manages the influx of Syrian refugees.
The news left Sweden's Integration Minister Erik Ullenhag beaming.
"This is a positive result, fantastic actually," he told The Local on Friday. "It means Sweden and Swedish people have become more used to immigration."
And there has been a lot for Swedes to get accustomed to, the minister accepted, with Sweden's foreign-born population jumping from 3 percent in the 1950s to over 15 percent today.
He said that nowadays, foreigners enjoy an easier transition to Sweden and that Swedes play a helping hand.
[message_box title="Population Trends In Sweden" color="blue"]Population of Sweden, 1961 to 2003. The population increased from 7.5 to 8.3 million during the 1960s to 1970s. After a phase of stagnation during the early 1980s, the population grew further from 8.3 to 8.8 million during 1987 to 1997, followed by another phase of stagnation (followed by another growth phase from 8.8 to 9.3 million over 2004 to 2010).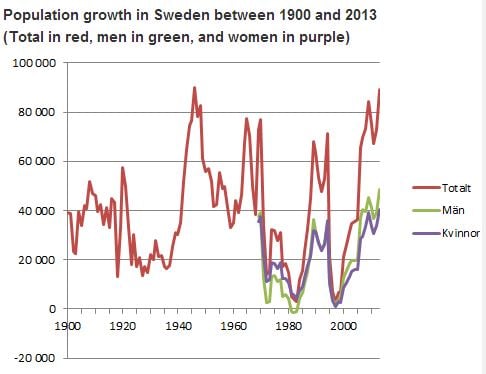 During 2010 the most common reason for immigrating to Sweden was:
Labour migrants (21%)

Family reunification (20%)

Immigrating under the EU/EES rules of free movement (18%)

Students (14%)

Refugees (12%)
[/message_box]
"You can see it in the work places, people are getting more used to foreigners and have a more positive attitude. There are many places in Europe, many with similar populations as Sweden, with far worse results."
The minister said Sweden's table topping score was a direct result of the government's leadership.
"I think Sweden's political leadership has been crystal clear on the notion of openness, tolerance, and standing up for diversity. And of course, that influences the attitudes among the citizens, especially compared to several other European countries that have a different tone when it comes to integration. I think [in those countries] it boils down to a lack of political leadership," he said.
As of 2010 however, 1.33 million people or 14.3% of the inhabitants in Sweden were foreign-born. Of these, 859,000 (64.6%) were born outside the European Union and 477,000 (35.4%) were born in another EU member state. Sweden has been transformed from a nation of net emigration ending after World War I to a nation of net immigration from World War II onwards. In 2013, immigration reached its highest level since records began with 115,845 people migrating to Sweden while the total population grew by 88,971.
In 2010, 32,000 people applied for asylum to Sweden, a 25% increase from 2009, however the number of people who received asylum did not increase because the large increase was much due to the allowing of Serbian nationals to travel without a visa to Sweden. In 2009, Sweden had the fourth largest number of asylum applications in the EU and the largest number per capita after Cyprus and Malta. Immigrants in Sweden are mostly concentrated in the urban areas of Svealand and Götaland and the four largest foreign born populations in Sweden come from Finland, Yugoslavia, Iraq and Iran.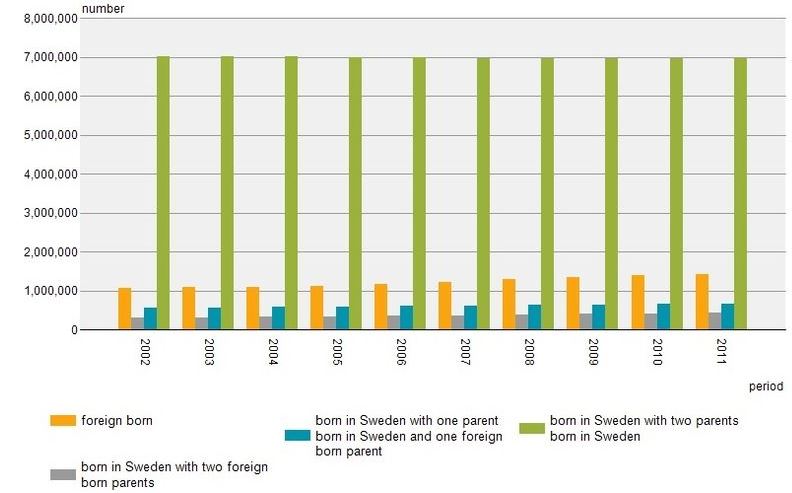 With Inputs from Wikipedia & The Local
[divider scroll_text="Back To Top"]